The Cheese Factory Restaurant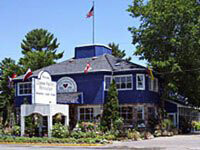 521 Wisconsin Dells Pkwy.
Wisconsin Dells, WI 53965
608-253-6065
Summer Season Hours
Monday, Wednesday, Thursday, Friday, and Saturday: 9 a.m. to 9 p.m.
Off-Season Hours
Thursday and Friday: 11 a.m. to 9 p.m.
Saturday and Sunday: 9 a.m. to 9 p.m.
The Cheese Factory Restaurant gets its name from the unique building in which it is housed, which was once a working cheese factory. Converted to a restaurant in 1992, it has been serving family-friendly, all-vegetarian fare ever since, attracting a dedicated following from families visiting Wisconsin Dells for its vacation attractions.
Head Chef Sage-Louise was born in France and raised in Montreal, and her cooking has a distinctly international flair with an emphasis on Southwestern, Asian, and American flavors. Her simple yet sophisticated dishes are a testament to her apprenticeship with Master Chef Felipe Rojas-Lombarde, a protégé of the late James Beard, and to the many years that she spent working at venerable New York City institutions, such as Dean and Deluca.
Cheese Factory servers are moonlighting students and teachers from the nearby Endeavor Academy—a nondenominational Christian school—who come from around the world. Their vintage uniforms add to the old-fashioned ambience created by a soda fountain and Rock-Ola jukebox. A cappuccino bar offers delectable soy milk concoctions, and full breakfast, lunch, and dinner menus—along with special menus for kids and vegans—feed hungry tourists all day long. Customer favorites include "BBQ 'Rattlesnake' Tofu," deep-fried Thai bananas drenched in a coconut-peanut curry sauce, aromatic "Delhi Delicious Stew," made-from-scratch desserts, and the restaurant's famous roasted red pepper romesco sauce, which the staff swears "could make cardboard taste good."
The lush gardens surrounding the restaurant bring in many curious passersby, who quickly become diehard fans after tasting Cheese Factory's delicious foods. "Many call us their favorite Dells restaurant," says owner Hana Lawrence. "Most of our customers have never eaten vegetarian food and leave with a whole new idea of what eating vegetarian means. People call from as far away as California to make reservations for family reunions."
All the food is prepared fresh daily from locally-grown organic produce, when it is available, and garnished with flowers from the garden. Large groups and special events can be accommodated in spacious banquet rooms or on the enclosed deck.
Romesco Sauce
Here is an adaptation of the classic Spanish romesco sauce, which is traditionally made with roasted peppers, chilies, garlic, olive oil, and almonds. In Spain, it accompanies almost everything. There is a standing joke among the cooks at the restaurant that it is "so versatile and delicious that it could make cardboard taste good!" As a bonus, it keeps well in the refrigerator for five days and freezes perfectly.
12 oz. pimentos
2 1/2 oz. slivered, toasted almonds
2 tsp. minced garlic
1 1/2 Tbsp. chipotle peppers in adobo sauce (try San Marcos brand, available in Hispanic markets)
1/2 cup olive oil
1 1/2 Tbsp. balsamic vinegar
1 1/2 tsp. salt
Combine all the ingredients in a blender and purée until smooth.
Makes 2 cups
Cranberry Relish
A new twist on an old favorite, this traditional holiday condiment makes a great gift. If refrigerated, it has a shelf life of several weeks, and it freezes well. Serve with any tofu or seitan entrée, or use it as an accompaniment at Thanksgiving with wild rice or baked squash.
4 oranges (reserve the zest of one orange)
1/2 cup orange juice
1 lb. fresh whole cranberries
1 1/2 cups sugar
2 garlic cloves
1 Tbsp. soy sauce
1/2 tsp. Tabasco sauce
3 Tbsp. minced ginger root
2 tsp. curry powder
2 cinnamon sticks
1/2 cup raisins
• Peel and separate the orange sections and set aside.
• In a heavy-bottomed 2-qt. saucepan, combine the orange juice, cranberries, sugar, garlic, soy sauce, Tabasco sauce, gingerroot, curry powder, cinnamon sticks, and raisins. Bring to a gentle boil over medium heat. Simmer for 8 to 10 minutes.
• Remove the garlic and the cinnamon sticks. Stir in the orange sections and zest. Remove from the heat and let cool. Refrigerate until ready to serve.
Makes 1 qt.
Chilled Asparagus With Sesame Vinaigrette
The deep, rich flavor of this sesame dressing offers an appealing contrast to the light flavor of the asparagus. Served warm or cold, this salad makes a wonderful appetizer. Delicious with grains such as quinoa or wild rice, it easily transforms into a fat-free, low-calorie dish by eliminating or reducing the sesame oil.
2-3 lbs. fresh asparagus (16-18 spears per pound)
5 Tbsp. dark sesame oil
1 1/2 Tbsp. rice vinegar
2 1/2 Tbsp. soy sauce or tamari
2 tsp. sugar
Salt and pepper, to taste
1/4 cup toasted sesame seeds
• Cut approximately 1 inch or more off the ends of the asparagus stalks and discard. Using a vegetable peeler, pare approximately 1 inch or so off the stalks to remove any remaining tough fibers.
• Steam or blanch the asparagus in boiling water until crisp but tender (the amount of time will vary depending on the size of the stalks). Drain and immerse in ice water to chill. Drain, pat dry with paper towels, and place in a serving dish.
• Mix the oil, vinegar, soy sauce, and sugar in a small bowl. Adjust the flavor with the salt and pepper as desired. Pour over the asparagus and marinate for several hours in the refrigerator.
• Serve garnished with the toasted sesame seeds.
Makes 8 servings
Quinoa With Fresh Cilantro
Cultivated in the Andes for centuries, quinoa has been called "the ancient food of the Incas." Highly nutritious, this grain looks like couscous and has a distinctive earthy, nutty flavor. It is easy to prepare and makes a great chilled grain salad. This recipe may be prepared one or two days ahead of time and reheated in the microwave. It keeps well in the refrigerator for up to five days.
1 lb. quinoa (2 1/2 cups dry)
2 Tbsp. olive oil
1 cup finely chopped onion
2 Tbsp. vegetarian chicken-flavored powder
3 1/2 cups boiling water
1 bay leaf
1/2 cup fresh cilantro, chopped
1/2 tsp. ground white pepper
Salt, to taste
• Place the quinoa in a sieve and rinse under cold running water. Drain and set aside.
• Heat the oil in a 4-qt. saucepan and add the onion. Sauté until translucent.
• In a small bowl, dissolve the "chicken"-flavored powder in the boiling water. Add to the saucepan.
• Add the rinsed quinoa and the bay leaf. Cover and bring to a boil. Reduce the heat and simmer for approximately 20 to 30 minutes, or until the quinoa is tender and fluffy. Remove from the heat.
• Add the cilantro and the pepper. Season with the salt as desired.
Makes 8 cups
Respond