Champagne-Orange Vinaigrette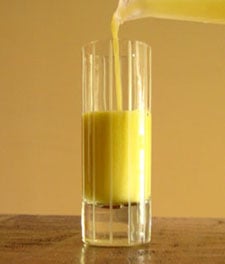 Salad dressing is one item that is commonly purchased prepackaged, but it's is so easy to make at home that I wish people would give the jarred variety the boot. And not only is homemade dressing easy to make, it's cheaper and tastier too.
The technique is simple: Start by combining vinegar with herbs, fruit, spices, etc., and then slowly drizzle in your oil of choice until well combined. Then season, if needed, and you're done!
Today's recipe for Champagne-Orange Vinaigrette is part one of a two-part post. Tomorrow, I'll feature a light spring salad that will be the perfect base for this vinaigrette. Enjoy!
Champagne-Orange Vinaigrette
1/3 cup champagne vinegar
1 Tbsp. orange juice
1 Tbsp. agave
2 Tbsp. canola oil
Salt and pepper, to taste
•In a small bowl, whisk together the vinegar, orange juice, and agave, and then slowly whisk in the oil. Season with salt and pepper.
•If doubling or tripling the recipe, you can use a blender: Blend the vinegar, juice, and agave for 10 seconds and then slowly add the olive oil. Finish by adding the salt and pepper.
Related Posts
Respond