Who Can Resist a Halloween Cupcake?
Written by
October 31, 2007
|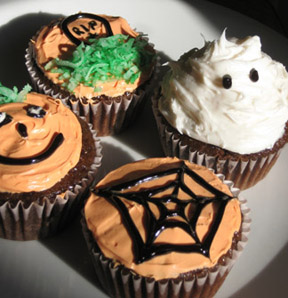 Still not over Halloween, even after my weekend bash, I decided to make more sweets to celebrate today's holiday. It was time for the obligatory cutesy cupcakes, and of course, they had to be chocolate. I used the recipe I posted a few months back, but this time cutting it in half. I must have been high on cupcake goodness when I said that recipe makes only 36 cupcakes. The actual number is a little closer to 48. After baking, the chocolate cupcakes were slowly transformed into ghosts, pumpkins, graveyards, and spider webs—all more cute than creepy.
But the sweets don't end there. People around the country are still stocking up on treats to dish out tonight. I'll be giving out my favorite vegan candy—Now and Laters, Chocolove Chocolate, and Sweet Tarts—because I'm sadly too old to go out and participate in the fun. The last time I went trick-or-treating, my best friend, my sister, and I dressed as Bell Biv DeVoe—I kid you not. Maybe my age is sparing some child from the most frightening Halloween of his life.
Find out more about candy that is surprisingly vegan, and happy Halloween!
Related Posts
Respond
In This Section