Which Came First, the Mortar or the Pestle?
Written by
September 28, 2007
|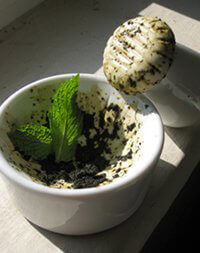 The mortar and pestle is one of my all-time favorite kitchen tools. I love the ease at which they grind, mix, and inspire me to sing R. Kelly songs.
In my kitchen, the tool is primarily used for grinding herbs to use either in a paste for coating baked tofu or as a key ingredient in a mojito—one of my favorite cocktails. I sometimes like to use my mortar and pestle for making guacamole, too, but the tool has traditionally been used for much more.
In African countries, large wooden versions are used to pound yams and other ingredients and are a kitchen staple. In Mexican kitchens, the mortar and pestle, or molcajete, is made of volcanic rock and is used to mix salsas and moles and to grind corn—proof of which dates back more than 6,000 years. The tool is even commonly used for a little medicinal bump and grind.
Respond
In This Section