Calling All Sexy Vegetarians Over 50!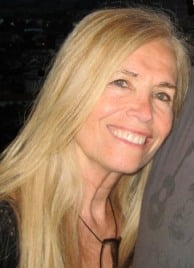 The following article originally appeared on PETA Prime.
For any of you who are still on the fence about entering PETA's Sexiest Vegetarian Over 50 Contest, I have three words: Just do it! A little more than a year ago, I was in your shoes—wondering whether it was crazy for a 70-year-old grandmother to enter a sexiest vegetarian contest. But I did it anyway, and much to my delight, I won!
Being named the Sexiest Vegetarian Over 50 completely turned my life around. I was retired, but now I'm busier than ever—and I'm loving every minute of it. I'm currently writing a book that includes lots of my favorite raw vegan recipes, and it will be published in the spring. I've given so many television and newspaper interviews that I've lost track of them all. And I'm constantly fielding Facebook requests from my grandchildren's friends, who all want to be friends with the "hot grandma"!
Entering the contest is so easy. All you need to do is send in a recent photo of yourself along with a brief bio by November 5, 2010. You can even nominate your vegetarian friends and relatives! The male and female winners of this year's contest will each win a a five-night experience at Laguna Lodge, a luxurious and natural eco-resort in Guatemala.
I think the best part about winning (or even just entering) this contest is the excellent platform that it provides for sharing your vegetarian lifestyle and beliefs with others. Everyone wants to know why I stopped eating meat more than 40 years ago. My title gives me the perfect opportunity to tell them that I'm vegan because I don't support the cruelty that happens on factory farms and in slaughterhouses. I always tell people how good it feels to know that I'm not responsible for confining hens to cages that are so tiny that the animals can barely stretch a wing or tearing piglets away from their distraught mothers and cramming them into crowded pens. I'm proud to be a living example to others of the amazing benefits of eating a healthy vegetarian diet: I'm full of energy, don't have aches and pains, and still look good in a miniskirt at age 71!
So to all you sexy, 50—plus vegetarians—if you haven't already done so, enter today! Don't be shy. After all, there is no age limit on being compassionate—or sexy.
Respond