Breakin' the Rules: Risotto for Thanksgiving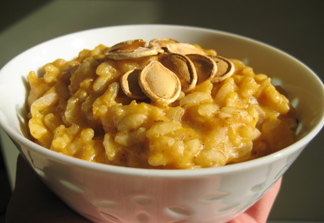 There is some debate over the correct technique for making risotto. Some say to add your broth all at once, while others say only one ladle at a time. Most recipes say to stir constantly, others say frequently, and some even say to let the risotto simmer untouched for almost 15 minutes. In Bill Buford's book Heat, I think there was even a mention about a technique that involves letting the risotto stick to the pan while cooking.
I interpret the debate to mean that there are fewer ways for me to go wrong when making the dish. Yes, people say that risotto is one meal that is practically ruined if not perfect, but I disagree. I've never met a risotto I didn't like.
The "comfort food that seems fancy" angle that risotto has going for it makes it a perfect candidate for a holiday entrée. Add in a little seasonal pumpkin, ginger, and nutmeg, and your guests won't be able to resist. They will bow down to you—and the risotto.
Pumpkin Risotto
1 cup diced sweet yellow onion
2 cups arborio rice
1 cup white wine
2 cups vegetable stock combined with 2 cups water
1 cup canned pumpkin purée
1 tsp. grated ginger
1 tsp. grated nutmeg
2 sprigs basil, sliced
1 Tbsp. olive oil
Salt, to taste
Pepper, to taste
Toasted pumpkin seeds (optional)
Sauté the onion over medium heat until translucent. (This occurs just before the onion starts to brown.)
Lower the heat to low or medium-low and add the rice. Cook for approximately 2 or 3 minutes, then slowly add the white wine, stirring until absorbed.
Slowly add in small amounts of the vegetable stock-and-water mixture, setting aside 1 cup. Stir continuously until the liquid is absorbed. (This can take 30 minutes, and it's important to stir the rice often to develop the gluten and create the creaminess of a proper risotto.)
When 3 cups of the vegetable stock-and-water mixture have been added, add the pumpkin, ginger, and nutmeg, then slowly stir in the remaining cup of the stock mixture until absorbed into the rice.
Stir in the basil and let cook for an additional 2 minutes. Remove from the heat and add the olive oil, salt, and pepper before serving.
Garnish with toasted pumpkin seeds, if desired.
Makes 4 servings
Respond