Black Beans With Mexican Beer
This post is going to be short and simple, because today's recipe is not. The recipe from Chow.com for Black Beans With Mexican Beer, also called frijoles borrachos, may seem a little complicated with its long list of ingredients, but it is definitely worth the effort.
The peppers, spices, and herbs combined perfectly with beer to make one of the most flavorful black-bean dishes I've ever had. I must admit that the extent of my black-bean-making experiences include opening a can and maybe adding some cumin and garlic—so it's no surprise that with this recipe, I was in for a special treat.
Enjoy!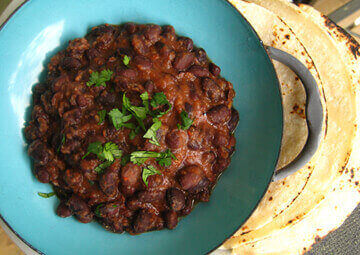 Black Beans With Mexican Beer
From Chow.com
2 cups dried black beans
1 medium white onion
2 dried ancho chiles
1 small celery stalk, halved
1 small carrot, peeled and halved
2 garlic cloves, peeled
2 bay leaves
1 Tbsp. whole dried cumin seed
1 tsp. whole dried coriander seed
1 serrano pepper, coarsely chopped
1 medium ripe tomato, coarsely chopped
2 tsp. dried oregano
1 12-oz. bottle Mexican beer
1 tsp. salt
1/4 cup canola oil
1/2 cup chopped fresh cilantro
Juice of 1 lime
Sift through the beans and remove any broken ones or stones. Place the beans in a large nonreactive bowl and cover with at least 3 inches of cold water. Allow to soak overnight or for at least 8 hours.
Drain the beans in a colander. Place in a large saucepan and cover with at least 2 inches of cold water.
Heat the oven to 400°F. Peel the onion and halve it lengthwise. Leave one half whole; coarsely chop the other half and set it aside for the seasoning paste.
Remove the stems from the ancho chiles and slit them open to remove the seeds. Place the chiles on a baking sheet and toast in the oven for 1 to 2 minutes, or until crisp and fragrant. Remove from the oven and place in a small bowl. Cover with very hot water and allow to soak for at least 15 minutes, or until soft and pliable.
Place the onion half, celery, carrot, garlic cloves, and bay leaves into the pot containing the beans. Bring to a boil over high heat, then reduce the heat and gently simmer until the beans are almost completely tender but still a little firm in the center, about 30 minutes. (Note: The beans should not be completely done, as they will cook for another 20 minutes with the spices and beer.) Season well with salt and remove from the heat.
Heat a small sauté pan over medium-high heat. Add the cumin and coriander seed and lightly toast until fragrant. Remove from the pan and set aside.
Remove the ancho chiles from the soaking water and coarsely chop. Combine with the reserved chopped onion, the serrano pepper, tomato, oregano, 1/4 cup of the beer, salt, and toasted cumin and coriander seed in a blender and process until smooth.
Strain the beans and discard the onion half, celery, carrot, garlic cloves, and bay leaves. Place about 1 cup of the cooked beans in a small mixing bowl and use a potato masher or the back of a fork to crush coarsely.
Heat the oil in a large, heavy pot over medium-high heat. When it is smoking hot, add the puréed mixture and fry for 3 minutes or until fragrant, stirring occasionally with a wooden spoon. Mix in the crushed and whole beans and the rest of the beer.
Simmer uncovered for 20 minutes. Stir in the chopped cilantro and the lime juice. Season with salt.
Makes 8 servings
Respond