BBQ, Southern Summers, and Slip 'n Slides
Written by
Amy Snyder
|
July 19, 2007
I made this recipe for the first time when I was invited to a summertime party at the house of a former coworker and great friend, Patrick. This was back in the day when I was still working at The Grit, where many of my coworkers were just as food-obsessed as I am, especially Patrick. He is one of the few people on the planet with whom I can have a really engaging conversation about food. Our conversations about dream menus, wine pairings, and the merits of oyster mushrooms are works of art in themselves. Of course, my competitive side kicked in when I realized I would be cooking for Patrick and the other employees at The Grit. How could it not? I was going to be cooking for the very people who spend their days making food for others. I decided that comfort food done well would be the way to go.
I found a yummy recipe for BBQ tempeh sandwiches and decided that with a few of my own additions, the sandwiches would be the perfect dish for a Southern summer party. In between taking turns on the Slip 'n Slide and playing rounds of Never Have I Ever, we found the time to scarf down our food, and the sandwiches were a huge success—which was much-needed redemption after the embarrassing truths I revealed during Never Have I Ever. Meat-eaters and vegetarians alike raved that this was the best tempeh they had ever tried. Cooking the tempeh for a long period of time lets it slowly absorb all the liquid until it has a soft texture but isn't mushy. The chipotle powder in the BBQ sauce really has kick—the cool slaw on top provides a perfect balance to the heat and a nice crunchy texture.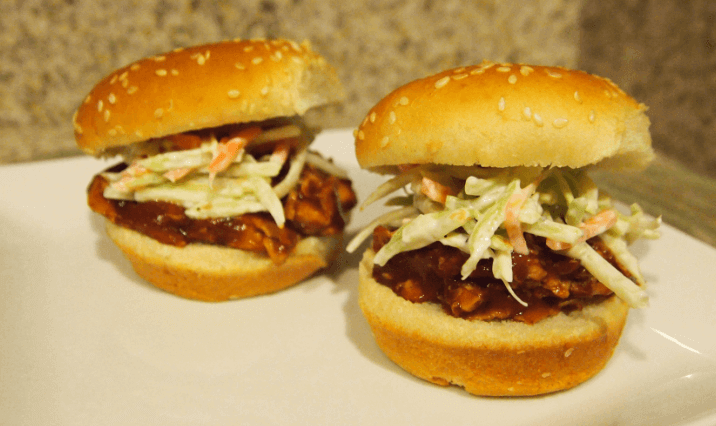 BBQ Tempeh Sandwiches Topped With Multicolor Slaw
For the BBQ Tempeh:
1 lb. tempeh
1/2 cup soy sauce
1/2 cup apple cider vinegar
1/2 cup maple syrup
1/2 cup olive oil
2 tsp. chipotle powder
1 tsp. dried thyme
1 tsp. sweet paprika
1 tsp. cumin
Preheat the oven to 450ºF. Cut the tempeh in half lengthwise, then cut the 2 slabs in half widthwise (as if you were slicing a roll), creating 4 squares that are nearly identical in size. Next, cut the tempeh into smaller strips, about 1 by 3 inches. Arrange in a single layer in a 2- to 3-inch-deep baking dish and set aside.*
Whisk together all the remaining ingredients. Pour over the tempeh, coating evenly. Cover tightly with aluminum foil and bake for 45 minutes. Remove the aluminum foil and bake, uncovered, for an additional 10 minutes. Remove from the oven and set aside.
For the Slaw:
1 cup shredded green cabbage
1 cup shredded red cabbage
1/4 cup finely diced onions
2 Tbsp. vegan mayonnaise (try Vegenaise)
1 Tbsp. apple cider vinegar
1/4 tsp. celery salt
Salt and pepper, to taste
In a medium-size bowl, combine the cabbage, onions, vegan mayonnaise, and vinegar. Mix until well combined. Add the celery salt, salt, and pepper. Keep in mind that the tempeh will be both spicy and slightly salty! Cover and store in the fridge until ready to assemble the sandwiches.
Makes 6 servings
*Note: If you can't get all the tempeh in a single layer, make one layer and cover it with half the marinade. Top with the rest of the tempeh and pour the remaining marinade on top.
Respond