Baked Oatmeal Squares: Breakfast On-the-Run
The following article was written by Jessy Easton.
No time to prepare breakfast? These healthy baked oatmeal squares from the vegetarian cookbook Peas and Thank You by Sarah Methany make a great on-the-run meal. They are simple to prepare and satisfying to eat, and do you want to know the best part? Each square totals less than 150 calories!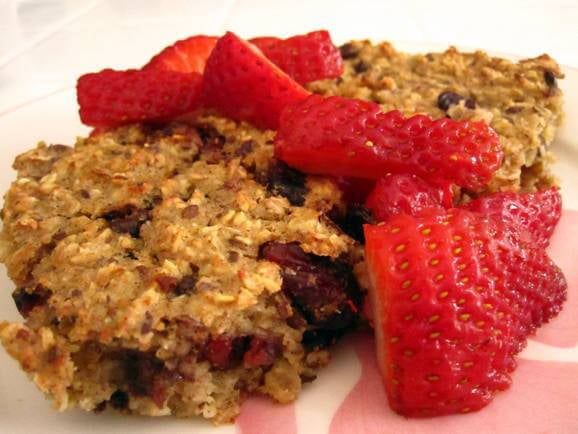 Just grab a square on your way out the door to work or the gym or when you're off on a long day of errands.

Baked Oatmeal Squares
2 cups old-fashioned oats
1/4-1/2 cup organic brown sugar (depending on how sweet you like your oatmeal)
2 tsp. ground cinnamon
2 tsp. baking powder
1 tsp. salt
1/2 cup dried cranberries
1 cup nondairy milk
1/2 block silken tofu
1/2 cup applesauce
1 tsp. vanilla extract
Toppings: nondairy milk, sliced bananas, strawberries, peanut or almond butter

Preheat the oven to 350ºF.
In a large bowl, combine the oats, sugar, cinnamon, baking powder, salt, and cranberries.
In a blender or food processor, combine the nondairy milk, tofu, applesauce, and vanilla and process until smooth. Add the wet ingredients to the dry and mix well.
Spread the mixture into an 8×8-inch pan that has been lightly coated with cooking spray and bake for approximately 40 minutes.
Cut into squares and serve with desired toppings.
Makes 9 2×3-inch squares
Respond