Ask the Vegan Chef, Part 1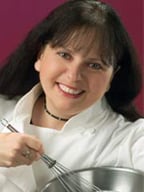 Robin Robertson—a former restaurant chef and the author of one of my favorite vegan cookbooks, Vegan Planet—is kind enough to answer monthly questions here on VegCooking.com about all things vegan. Yep, she is the "vegan chef" and she answers the questions you may have about baking, meat alternatives and other products, health, young vegans, and more.
You're in luck, because we have a little sneak peek of Robin's new round of "vegan chef" questions, and we're posting part one today. Be sure to check back for part two as well as for info about and reviews of Robin's exciting new cookbook, Vegan Fire & Spice.
Ask the Vegan Chef, Part 1
Answers by Robin Robertson
Q. I am a new vegan and have a couple of questions about products. Are sugar-free maple syrup, Bisquick, and Smart Balance vegan? Thanks!
A. You're in luck: According to the Smart Balance Web site, its "Certified Organic" Smart Balance is 100 percent vegan (the lactic acid it contains is derived from beets). Bisquick is also vegan—as long as you don't add eggs or dairy products to the mix! As for sugar-free maple syrup, I couldn't find any brands that weren't vegan, but as with any product, it's always a good idea to read the label first. PETA has a great factsheet on hidden animal ingredients so that you know what to look for.
Q. I have high blood pressure and have to watch my sodium intake. A lot of the veggie dinners on the market are full of sodium. Are there any frozen veggie dinners available that are quick to fix and low in sodium?
A. That's a tough one, since most processed products and meals tend to be high in sodium. Here's an idea that can be economical and lets you control the sodium: Make your own! Pick a day when you have a few hours to devote to cooking. Get some meal-sized containers that you can either pop in the oven or microwave, depending on your preference. Then get cooking: Choose three recipes that you enjoy that freeze well (one-dish meals such as stews and chili are great for that), and then cook a large batch and portion them for the coming weeks. You can also make a big pot of rice or other grain and portion it into containers. Grains freeze well and defrost quickly. To speed things along, you can place frozen rice in a colander and run it under hot water in the kitchen sink.
Q. I am about four weeks into my vegan lifestyle but have concerns about eating out. On this Web site, I found good info on various restaurants, but you do not say anything about the buns. I thought that most buns, bagels, and breads are made with eggs or butter. And what about pastas?
A. Although there are certainly exceptions, many breads, rolls, and pastas are actually made without eggs or butter, especially French or Italian-type breads as well as flatbreads and bagels. The predominant exception is "flavored" breads or bagels, which may contain cheese, etc. Dried pastas are generally vegan, while "fresh" pasta usually is not. One way to give yourself peace of mind is to call a restaurant before you visit it (try not to call during the lunch or dinner rush) and ask to speak with a manager whom you can ask about the products the restaurant uses. This is much less of a hassle than just showing up at a place unprepared.
Respond