Asian Ginger-Peanut Slaw
Written by
September 4, 2013
|
Although summer is on its way out, a refreshing salad is a yummy treat year round. This Asian slaw is easy to make, healthy, and undeniably delicious! Even those of us who are total novices in the kitchen (including me!) can put this recipe together in a flash. It has quickly surpassed all others to become my favorite salad recipe. Try it today—you won't be disappointed!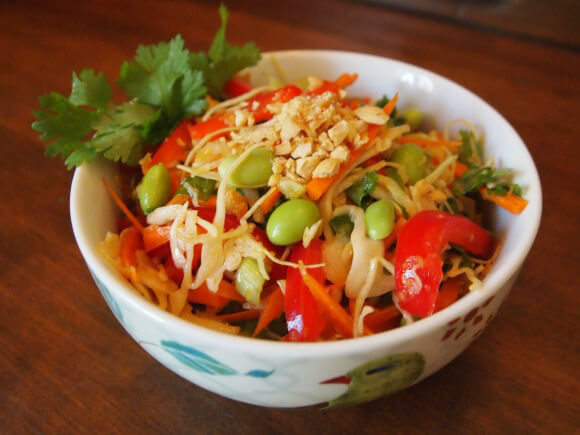 Asian Ginger-Peanut Slaw
Adapted from OnceUponAChef.com
1/2 cup vegan ginger dressing (try Makoto)
4 cups of shredded coleslaw
2 cups shredded carrots
1 red bell pepper, thinly sliced
1 cup cooked and shelled edamame
2 medium green onion stems, finely sliced
1/2 cup crushed or chopped salted peanuts
1/2 cup cilantro
Sriracha, to taste (optional)
Combine all the ingredients except the Sriracha in a large bowl and toss.
Place in the fridge for at least 10 minutes so that the vegetables have a chance to soak up the dressing.
Add the Sriracha
Serve cold.
Makes 4 to 6 servings
Related Posts
Respond