Accidentally Vegan Food List
Have you been wondering what snacks are vegan? Grocery stores carry an array of great-tasting vegan options, including some items that you might not know are vegan. "Accidentally vegan" foods are those that were not created intentionally to be marketed to vegan* eaters.
Please note that this list is just for U.S.-based products, as ingredients can vary by region. Companies frequently change their formulations, so read labels prior to purchasing. We are constantly updating this list, so if you know of a vegan product that isn't currently listed or if you find a product here that isn't vegan, please contact PETA.
Thank you, and happy munching!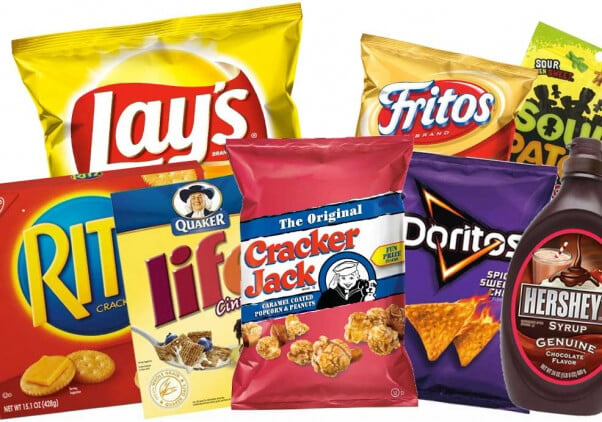 Breakfast (Dry)
Barbara's Brown Rice Crisps
Barbara's Cinnamon Puffins
Barbara's Organic Corn Flakes
Barbara's Original High Fiber Medley
Barbara's Peanut Butter Puffins
Barbara's Shredded Wheat
Cap'n Crunch Peanut Butter Crunch
Cascadian Farm Organic Berry Vanilla Puffs
Cascadian Farm Organic Chocolate O's
Cascadian Farm Organic Cinnamon Crunch
Cascadian Farm Organic Fruitful O's
Cascadian Farm Organic Graham Crunch
Cascadian Farm Organic Multi Grain Squares
Cascadian Farm Organic Purely O's
Cascadian Farm Organic Raisin Bran
Cinnamon Life
Kashi GOLEAN Crisp! Toasted Berry Crumble
Kashi Organic Promise Autumn Wheat
Kashi Organic Promise Island Vanilla
Kashi Strawberry Fields
Kellogg's Mini-Wheats Unfrosted Bite Size
Life Original
Nature Valley Maple Brown Sugar Crunchy Granola Bars
Beverages
Alpine Spiced Apple Cider
Kool-Aid Sugar-Sweetened Soft Drink Mix
Monster Energy drinks
Nestlé Nesquik Chocolate Syrup
Nestlé Nesquik Strawberry Syrup
Power Edge Energy Drink Mix
Red Bull Energy Drink
Snacks
Airheads Taffy
Back to Nature California Lemon Cookies
Back to Nature Chocolate Chunk Cookies
Back to Nature Chocolate Delight Granola
Back to Nature Classic Creme Cookies
Big League Chew Bubble Gum
Brach's Cinnamon Hard Candy
Brach's Mandarin Orange Slices
Brach's Root Beer Barrels
Brach's Star Brites
Bremner Wafers
Charms Sweet Pops
Chick-O-Sticks
Chocolove Dark Chocolate bar
Clif Bars
Clif Crunch, Kids, Luna, and Mojo Bars (Be sure to read the ingredients for each variety, though.)
Clif Shot Bloks
Cracker Jacks
Cry Baby candy
Dole Mandarins in Orange Gel
Doritos Spicy Sweet Chili
Dots
Dum Dums
Ferrara Atomic FireBalls
Ferrara Chocolate Wafer Swirls
Fritos Bar-B-Q Flavored Corn Chips
Fritos Brand The Original Corn Chips
Frito Lay Sabritones
Fruit by the Foot
Goya Spanish Style Custard Flan Mix
Haribo Sour S'ghetti Gummi Candy
Herr's Onion Flavored Rings
Herr's Salsa & Lime Tortilla Chips
Hubba Bubba gum
Jolly Rancher Hard Candy
Jolly Rancher Lollipops
Joyva Chocolate Covered Orange Ring Jells
Joyva Chocolate Covered Raspberry Ring Jells
Jujubes
Jujyfruits
Keebler Ice Cream Cups
Keebler Original Club Crackers
Kettle Brand Popcorn (Maple Bacon, Salt + Pepper, Sea Salt, and Sriracha varieties)
Kettle Brand Potato Chips (Backyard Barbecue, Jalapeño, Maple Bacon, Pepperoncini, Red Curry, Roasted Garlic, Sea Salt, Sea Salt & Vinegar, Spicy Thai, Sriracha, and Unsalted varieties)
Kool-Aid Gels
Landgarten Amarena Cherries in Dark Chocolate
Landgarten Ginger in Dark Chocolate
Landgarten Organic Pumpkin-Snack Dark Chocolate
Landgarten Organic Tamari Soy-Snack
Landgarten Raspberries in Dark Chocolate
Landgarten Soya-Snack Dark Chocolate
Lay's Air Pops (Original and Salt & Vinegar varieties)
Lay's Kettle Cooked potato chips (40% Less Fat Original, 40% Less Fat Sea Salt & Vinegar, Original, and Sea Salt & Cracked Pepper varieties)
Lay's potato chips (Barbecue, Classic, Deli Style Original, Dill Pickle, and Lightly Salted varieties)
Lay's Wavy potato chips (Lightly Salted and Original varieties)
Lindt Excellence 70%, 85%, and 90% Cocoa bars
Lundberg Brown Organic Rice Cakes
Manischewitz Matzos (Everything, Mediterranean, Organic, Spelt, Thin Salted, Thin Tea, Thin Unsalted, Unsalted, and Whole Wheat varieties)
Mary Jane candy
Melba Toast (Wheat and Whole Grain)
Mission Foods Corn Tortillas
Mission Foods Pre-Cut Unfried Tortilla Chips and Strips
Mission Foods Pre-Fried Tortilla Chips and Strips
Morni-Nu Mates Pudding Mix
Munchos
Nabisco 100 Calorie Packs Oreo Thin Crisps
Nabisco Ginger Snaps
Nabisco Oreo Chocolate Cones
Nabisco Original Grahams
Nabisco Saltine Crackers
Nabisco Triscuits (Balsamic Vinegar & Basil, Cracked Pepper & Olive Oil, Dill Sea Salt & Olive Oil, Fire Roasted Tomato & Olive Oil, Garden Herb, Hint of Salt, Original, Reduced Fat, Roasted Garlic, Roasted Red Pepper & Red Bean, Rosemary & Olive Oil, Rye With Caraway Seeds, Sea Salt & Black Pepper, Sweet Potato & Cinnamon Sugar, Sweet Potato & Roasted Onion, and Wasabi & Soy Sauce varieties)
Nature Valley Crunchy Granola Bars (Apple Crisp, Cinnamon, Maple Brown Sugar, Peanut Butter, Pecan Crunch, and Roasted Almond varieties)
Nature Valley Fruteria Chewy Granola Bars (Mango Strawberry and Strawberry Apple varieties)
Nature Valley Trail Mix Chewy Granola Bars (Cranberry & Pomegranate, Dark Chocolate Cherry, Dark Chocolate & Nut, and Fruit & Nut varieties)
Nature's Path Deep Chocolate Signature Series Cookies
Nature's Path Ginger Spice Signature Series Cookies
Nature's Path Lemon Poppy Signature Series Cookies
New York Flatbreads (Everything, Fat-Free, and Garlic varieties)
Pipcorn Popcorn
Pure De-Lite Coconut Bars
Quaker Apple Cinnamon Rice Cakes
Ritz Crackers
Ritz Whole Wheat Crackers
Rudolph's OnYums Onion Flavored Rings (original)
Ruffles All Dressed Assaisonnées potato chips
Ruffles Barbecue potato chips
Ruffles Original potato chips
Safeway Kitchens Fudge Mint Fudge Covered Mint Cookies
Salsitas Spicy Salsa Flavored Tortilla Rounds
Simply Lay's Sea Salted Thick Cut Potato Chips
Simply Ruffles Sea Salted Reduced Fat Potato Chips
Simply SunChips Sea Salted Multigrain Chips
Simply Tostitos Blue Corn Tortilla Chips (Scoops! Organic and Yellow Corn varieties)
Smartfood Delight Sea Salt Air Popped Popcorn
Smartfood Sweet & Salty Kettle Corn Flavored Popcorn
Smarties (U.S. version only)
Snack Pack Juicy Gels
SnackWells Cracked Pepper Crackers
Snyder's of Hanover Jalapeño Pretzel Pieces
Snyder's of Hanover Pretzel Sticks (Oat Bran and Pumpernickel & Onion varieties)
Sour Patch Kids
Soy Crisps (Barbecue, Deep Sea Salted, and Garlic & Onion varieties)
Stacy's Pita Chips (Italian Harvest, Multigrain, Simply Naked, and Veggie Medley varieties)
SunChips Original
Super Bubble Bubble Gum
Swedish Fish
Terra Real Vegetable Chips (BBQ Sweets, Beauregard Sweets, Blues, Cinnamon Sweets, Crinkled Sweet Potato With Sea Salt, Exotic Harvest, Exotic Potato, Heritage Blend, Original, Spiced Sweets, Stripes & Blues, Sweet Potato No Salt Added, Sweets & Beets, Sweets & Carrots, Sweets Medley, and Taro varieties)
Tic Tac Mints
Toasteds Crackers (Sesame and Wheat varieties)
Town House Original Crackers
Velamints
Wasa Crispbread (Light Rye and Multi Grain varieties)
Wheat Thins (Fiber Selects, Garden Vegetable, Flatbread Tuscan Herb, Hint of Salt, Multi-Grain, Original, Reduced Fat, Spicy Buffalo, Sundried Tomato & Basil, and Zesty Salsa varieties)
Wheat Thins Toasted Chips (Great Plains Multigrain and Little Italy Roasted Garlic varieties)
Whole Foods Organic Chocolate Truffles
Wise Onion Rings
Zesta Original Saltine Crackers
Zotz
Condiments
Arnold Premium Stuffing (Cornbread, Herb Seasoned, Sage & Onion, Seasoned, and Unseasoned)
Bee Free Honee
Betty Crocker Bac~Os Bacon Flavor Bits and Chips
Brianna's Salad Dressing (Blush Wine Vinaigrette, Real French Vinaigrette, Rich Poppy Seed, Rich Santa Fe Blend, and Zesty French)
Campbell's Mushroom Gravy
Classico Bruschetta (Basil & Tomato and Extra Garlic)
Classico Pasta Sauces (Marinara with Plum Tomatoes & Olive Oil, Mushroom & Ripe Olives, Roasted Garlic, Spicy Red Pepper, Spicy Tomato & Basil, Tomato & Basil, Traditional Sweet Basil, Tuscan-Inspired Olive & Garlic, Cabernet Marinara with Herbs, Caramelized Onion & Roasted Garlic, Fire-Roasted Tomato & Garlic, Family Favorites Traditional, and Organic Tomato, Herbs & Spices)
Classico Pizza Sauce (Fire Roasted and Traditional)
Doña María Mole
Girard's Balsamic Glaze
Girard's Barbecue Sauce (Chuckwagon Hickory, Fiery Buffalo, Hawaiian Luau Plum, and Southwestern Mesquite)
Girard's Salad Dressing (Barista Balsamic Dressing, Carrot Ginger Miso Dressing, Champagne Dressing, Chinese Chicken Salad Dressing, Cilantro Dressing, Fat Free Lemon Basil Vinaigrette, Fat Free Raspberry Walnut Vinaigrette, Fat Free Red Wine Vinaigrette, Fat Free Roasted Red Bell Pepper Italian Dressing, Mango Lime Vinaigrette, Olde Venice Italian Dressing, Original French Dressing, Raspberry Dressing, Roasted Garlic Hummus Vinaigrette, Sundried Tomato and Artichoke Dressing, Sweet Chili Lime Vinaigrette, White Balsamic Vinaigrette, and Oriental Sesame, Ginger, & Orange Dressing)
Girard's Seacliff Cocktail Sauce
Gravy Master Browning & Seasoning Sauce
Heinz Tomato Ketchup
Hershey's Syrup (Chocolate, Strawberry, Lite, Sugar Free, +Calcium, and Special Dark)
Hunt's Manwich Sloppy Joe Sauce (Original, Bold, Thick & Chunky)
Idahoan Original Mashed Potatoes
KA-ME Sauces (Black Bean Sauce, Black Pepper Sauce, Duck Sauce, Hoisin Sauce, Hot Mustard, Plum Sauce, Soy Sauce, Sriracha Sauce, Stir-Fry Sauce, Sweet and Sour Sauce, Sweet Chili Sauce, Szechuan Sauce, Tamari Sauce, and Teriyaki Glaze)
Kellogg's Corn Flakes Crumbs
Knorr Red Bell Pepper Pesto Sauce Mix
Kraft Original Barbecue Sauce
Kraft Salad Dressing (Balsamic Vinaigrette, Classic Catalina, Creamy Italian, Fat-Free French Style, Zesty Italian, and Fat-Free Zesty Italian)
Kraft Shake 'N Bake Seasoned Coating Mix Original Chicken
McCormick Bac'n Pieces™ Bacon Flavored Bits
McCormick Bag 'n Season (Chicken, Pork Chops, and Pot Roast)
McCormick French Onion Dip Mix
McCormick Grill Mates Seasoning (25% Less Sodium Montreal Chicken, 25% Less Sodium Montreal Steak, Backyard Brick Oven, Barbecue, Belgian Style White Ale, Brown Sugar Bourbon Marinade, Chipotle & Roasted Garlic, Fiery 5 Pepper, Hamburger, Mesquite, Montreal Chicken, Montreal Steak, Roasted Garlic & Herb, Smokehouse Maple, Spicy Montreal Steak, Steakhouse Onion Burger, and Worcestershire Pub Burger)
McCormick Skillet Sauce (Fire Roasted Garlic Chili; Sesame Chicken Stir-Fry; Sicilian Chicken with Tomato, Basil & Garlic; Sweet & Smoky Sloppy Joes; Taco with Chipotle & Garlic, and Fajita with Roasted Chili, Garlic & Lime)
McCormick Smoky Bourbon BBQ Pulled Pork Slow Cooker Sauce
McCormick Vegetable Dip Mix
Melissa's Dessert Sauce (Chocolate, White Chocolate, and Raspberry)
Newman's Own Dressing (Balsamic Vinaigrette, Lite Balsamic Vinaigrette, Lite Italian, Raspberry & Walnut Lite, Olive Oil & Vinegar, and Red Wine Vinegar & Olive Oil)
NOH Chinese Lemon Chicken Sauce Mix
Old El Paso Burrito Seasoning Mix
Old El Paso Chili Seasoning Mix
Old El Paso Enchilada Sauce
Old El Paso Fajita Seasoning Mix
Old El Paso Salsa Seasoning Mix
Old El Paso Taco Seasoning Mix (Original, Hot & Spicy, Mild, 25% Less Sodium)
Peanut Butter & Co. White Chocolate Wonderful
Ragú Pizza Quick Snack Sauce (Traditional)
Ragú Homemade Style Pizza Sauce
Ragú Pasta Sauce (Chunky 7-Herb Tomato; Chunky Garden Combination; Mushroom & Green Pepper; Chunky Sautéed Onion & Garlic; Chunky Sundried Tomato & Sweet Basil; Chunky Super Vegetable Primavera; Chunky Tomatoes, Garlic & Onion; Roasted Garlic; No Sugar Added Tomato Basil, Old World Style Marinara, and Super Chunky Mushroom)
Smucker's Spoonable Ice Cream Topping (Marshmallow, Pecans in Syrup, Pineapple, Strawberry, Sugar-Free Strawberry, and Walnuts in Syrup)
Smucker's Sundae Syrup (Strawberry)
Walden Farms Dressing (Asian, Bleu Cheese, Buttermilk Ranch, Coleslaw, Chipotle Ranch, Creamy Bacon, Creamy Italian, French, Italian, Italian Sundried Tomato, Pear & White Balsamic Vinaigrette, Russian, Sesame Ginger, Sugar-Free Italian, Jersey Sweet Onion, and Thousand Island)
Baked Goods
Arnold Bread (Bakery Light—100% Whole Wheat, Brick Oven—Premium White, Healthfull Nuts & Seeds, Real Jewish Rye [Everything, Marble Rye, Melba Thin, Pumpernickel Rye, Seeded, and Seedless], Premium Italian, and Stone Ground—100% Whole Wheat)
Arnold Pocket Thins Flatbread (8 Grain, Italian Herb, and 100% Whole Wheat)
Arnold Rolls (Dinner, Potato Hot Dog, Steak, Wheat Hot Dog, White Hot Dog, White New England Hot Dog, Potato Sandwich)
Arnold Sandwich Thins Rolls (Everything, Flax & Fiber, 100% Whole Wheat, and Multi-Grain)
Cobblestone Bread Co. (Corn Dusted Kaiser Rolls, Philly Style Hoagie Rolls, New York Style Jewish Rye, Gourmet Kaiser Rolls, Onion Rolls, Philly Steak Seeded Split, Pumpernickel, San Francisco Sourdough, Seeded Sandwich Rolls, White Sub Rolls, and Whole Wheat Bread)
Thomas' Bagels (Limited-Edition Banana Bread, Blueberry, Cinnamon Swirl, Cinnamon Raisin, Everything, Onion, Plain, Plain Made with Whole Grain, and 100% Whole Wheat)
Thomas' Bagel Thins Bagels (Plain, 100% Whole Wheat, Cinnamon Raisin, and Everything)
Thomas' Mini Bagels (100% Whole Wheat, Blueberry, Brown Sugar Cinnamon, Cinnamon Raisin, Plain, and Plain Made with Whole Grains)
Thomas' Sahara Pita Pockets and Tortilla Wraps
Weight Watchers English Muffins
Refrigerated and Frozen Foods
Anne's Flat Dumplings
Athens Fillo Dough
Athens Mini Fillo Shells
Healthy Choice Asian Potstickers
Kashi Frozen Entrees (Black Bean Mango, Mayan Harvest Bake, and Tuscan Veggie Bake)
Keebler Fudge Shoppe Fudge Pops
Luigi's Real Italian Ice
Marie Callender's Frozen Fruit Pies (except Pumpkin Pie and Southern Pecan Pie)
Minute Maid Frozen Juice Bars, Soft Frozen Lemonades, Soft Frozen Limeades, and Individual Cups
Ore-Ida French Fries and Tater Tots
Piñata Flour Tortillas
Simply Potatoes Diced Potatoes with Onion
Simply Potatoes Red Potato Wedges
Simply Potatoes Shredded Hash Browns
Smucker's Uncrustables (Peanut Butter & Grape Jelly, Reduced Sugar Peanut Butter & Grape Spread on Whole Wheat, Peanut Butter & Raspberry Spread on Whole Wheat, Reduced Sugar Peanut Butter & Strawberry Spread, and Peanut Butter & Strawberry Jam)
SuperPretzel Soft Pretzels
Baking
Aunt Jemima Pancake/Waffle Mix (Original and Whole Wheat Blend)
Baker's Baking Chocolate Bar (Unsweetened and Semi-Sweet)
Betty Crocker Bisquick Original Pancake & Baking Mix
Crisco Original No-Stick Cooking Spray
Duncan Hines California Walnut Brownie Mix
Duncan Hines Whipped Frosting (Chocolate, Fluffy White, and Vanilla)
Gefen Marble Fudge Cake Gluten-Free Cake Mix
Hodgson Mill Bread Mix (Barley, Caraway Rye, Gluten Free, 9 Grain, Potato, and Wholesome White)
Hodgson Mill Bran Muffin Mix
Hodgson Mill Whole Wheat Gingerbread Mix
Jell-O Instant Pudding & Pie Filling (Banana Cream, Butterscotch, Cheesecake, Chocolate, Chocolate Fudge, Coconut Cream, Devil's Food, French Vanilla, Lemon, Oreo Cookies 'n Creme, Pistachio, Pumpkin Spice, Vanilla, and White Chocolate)
Jell-O Cook & Serve Pudding & Pie Filling (Banana Cream, Butterscotch, Chocolate, Chocolate Fudge, Coconut Cream, Lemon, Rice Pudding, and Vanilla)
Jello-O Flan Spanish Style Custard Dessert with Caramel Sauce
Miracle Muffins
Royal Pudding & Pie Filling
Streit's Chocolate Chip Cookie Mix
Streit's Chocolate Cake Mix With Frosting
Tropical Source Dark Chocolate Chips
Staples
Campbell's Mushroom Gravy
Del Monte Harvest Selects White Corn Cream Style
Green Giant Cream Style Sweet Corn
Healthy Choice Garden Vegetable Soup
Hormel Vegetarian Chili With Beans
Kraft Shake 'N Bake (Original Chicken Seasoned Coating Mix, Original Pork Seasoned Coating Mix, and Hot/Spicy Seasoned Coating Mix)
Kraft Taco Bell Taco Dinner Kit (Crunchy and Soft)
Manischewitz Sweet Potato Pancake Mix
McCormick Fajitas Seasoning Mix
McCormick Skillet Sauce (Fajita With Roasted Chili, Garlic & Lime; Fire Roasted Garlic Chili; Sesame Chicken Stir-Fry; Sicilian Chicken With Tomato, Basil & Garlic; Sweet & Smoky Sloppy Joes; and Taco With Chipotle & Garlic)
Mission Foods Pre-Cut Unfried Tortilla Chips and Strips
Mission Foods Pre-Fried Tortilla Chips and Strips
Mission Foods Taco Shells
Mission Foods Corn Tortillas
Near East Rice Pilaf Mix (Curry, Garlic & Herb, Lentil, Original, Spanish, Toasted Almond, Wild Mushroom & Herb, Long Grain & Wild Rice [Original, Garlic & Herb], and Wheat Pilaf)
Near East Couscous Mix (Original Plain;, Toasted Pine Nut, Roasted Garlic & Olive Oil, Wild Mushroom & Herb, Wheat, and all six Pearled and Wheat varieties)
Old El Paso Enchilada Sauce
Old El Paso Fat-Free Refried Beans
Old El Paso Fajita Dinner Kit
Old El Paso Taco Seasoning Mix (Original, Hot & Spicy, Mild, 25% Less Sodium)
Old El Paso Taco Shells
Olé Mexican Foods (Corn Tortillas, Flour Tortillas, Corn Tostadas, and Wraps)
Progresso Vegetable Classics Soups (Lentil, 99% Fat Free Lentil, Hearty Tomato, and Tomato Basil)
Rice-A-Roni Spanish Rice
San Giorgio Pastas (Angel Hair, Elbow Macaroni, Rigatoni, Rotelle, and Spaghetti)
Simply Asia Sesame Teriyaki Noodle Bowl
Swanson Vegetable Broth
Thai Kitchen Noodle Bowls (Hot & Sour, Mushroom, Roasted Garlic, Spring Onion, and Thai Peanut)
Tumaro's Low in Carbs Multigrain Tortillas
*Items listed may contain trace amounts of animal-derived ingredients. While PETA supports a strict adherence to veganism, we put the task of vigorously reducing animal suffering ahead of personal purity. Boycotting products that are 99.9 percent vegan sends the message to manufacturers that there is no market for this food, which ends up hurting more animals. For a more detailed explanation of PETA's position, please click here.
Respond