100 Pounds Later: Emily Nelson Talks to PETA About Going Vegan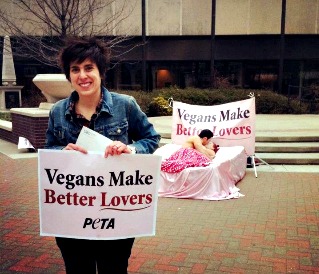 Emily Nelson is lucky to be married to a great cook, and she's inclined to drool at the mention of a perfect day of dining. But the way she's approached food has changed recently, and it shows. The Tulsa, Oklahoma, resident dropped 100 pounds since switching to a vegan diet a year ago. Wowed by her story, we asked her to chat, and she agreed. Here, she fills us in on her experience—from the perks to the pitfalls—and what inspires her to eat cruelty-free.
Tell us about your decision to go vegan. Was there a pivotal moment when you knew you wanted to give up meat and dairy products? 
A little over two years ago, I started looking at meat as meat! I began thinking about the animals in my freezer or on my plate the same way I thought about the dog on my lap. The final straw was reading Skinny Bitch. Their no-nonsense vegan basic training was just what I needed. At first, I gave up meat, but after a couple of weeks, I realized that dairy products were no better and dropped them, too.
Obviously, weight loss has been one perk of going vegan. What else do you like about the vegan lifestyle?
Who would've ever imagined that I could drop 100 pounds in a year? Wow, it still baffles me! I'm super-energized, my moods are more stabilized, my menstrual cycle has regulated, I have higher than ever red blood cells, and I am no longer anemic.
We always love to hear about people's favorite eats. Can you give us a run-down of what your ideal day of favorite meals would be?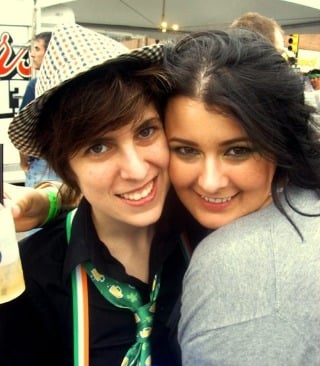 First off, I am super lucky to be married to an amazing cook. Ah … the perfect food day (forgive the drooling). Breakfast: blueberry coconut pancakes with a tofu scramble. Lunch: tempeh bacon, Daiya havarti cheese, avocado, spinach, tomato, Veganaise, Whole Foods Seeduction Bread, and a side of roasted asparagus. Dinner: fried scaloppini "chicken," roasted sweet potatoes, and cabbage. Snacks: I love juicing, and anytime that is possible, I will opt for that, but when I'm at work or my juicer is not in reach, I love Naked Juice or almonds.
If you could say one thing that all omnivores should pay attention to, what would it be?
I recently attended VegFest in Austin Texas, and I found a company that says it all in one short sentence:
"Eat like you give a damn!"
—Herbivore Clothing Company
What advice do you have for others who are considering going vegan?
Just like anything, it takes some time to get used to—to form a habit. It's rough at first. It's a daily struggle, and I would be lying if I said otherwise, but I've never felt better about myself or about my outlook on life. There are substitutes for everything, including ranch dressing (thank you, Follow Your Heart!).
Is there anything else you'd like to share with our PETA readers?
I think the greatest thing for me was connecting with other people—finding out which restaurants are vegan-friendly and where the local farmers markets are. My wife and I both went vegan at the same time, and I know that for me, that made the change so much easier. My wife, Alicia (the one pictured with me), has lost 50 pounds and is losing more every day. With Skinny Bitch, The Kind Diet, Eating Animals, Sea Shepherd, and PETA all proving that eating cruelty-free can be done, I feel so confident in my decisions and look forward to the continued work that I can do to help other people and animals.
*****
Inspired by Emily's story or have your own to share? Let me know in the comments section!
Respond