Win Pam's New Cruelty-Free Malibu Fragrance!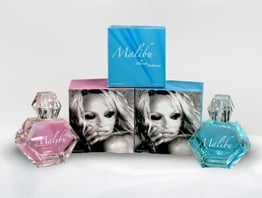 This contest has now ended.
PETA's favorite blonde bombshell, Pamela Anderson, has teamed with International Beauty Brands (IBB) to launch Malibu by Pamela Anderson. The line features two romantic, sexy fragrances—Malibu (in a beautiful blue bottle) and Malibu Night (in playful pink)—available at department stores and drugstores nationwide and online.
A Malibu gift set is also available, including body lotion, shower gel, and a purse-friendly fragrance mini-bottle. And soon, the line will expand to include Malibu Men, a fragrance for men, followed by a comprehensive makeup line and Malibu Sun, a skin-care line of SPF and bronzers.
Because Pam is such a good friend to animals, it's no surprise that the entire fun and affordable Malibu fragrance line is made from only 100 percent natural vegan ingredients with organic bases and is not tested on animals—all the products proudly bear PETA's "Cruelty-Free and Vegan" bunny logo. And as if that weren't enough, a percentage of the profits from Malibu by Pamela Anderson will go straight to PETA to help us save even more animals from suffering!
With the Malibu line, as Pam explained in her blog, she set out to "create a fun, sexy fragrance that really captured the beach with soft, gentle touches in a way that lingers. I didn't want a heavy perfume for you to swim in; I wanted you to feel bathed in soft, natural scents that were inviting and flirty, and of course a super sexy one to 'seal the deal.'"  
Respond