Vegan Weddings: Because Not All Wedding Looks Are Created Eco
The following article was written by Alexis Wise.
Found the love of your life? Check. You want to be together forever? Check. You still need to find the perfect wedding-day look? I'm here to help.
Without a doubt, your wedding day will forever be one of—if not the—most significant and memorable events of your life. What better way to start your lives together than cruelty-free? So do not fret, all you ethically minded bride-to-be's! Having a vegan wedding is classy, chic, and SO easy.
To start, the most anticipated, and of course most important, item you need before the special day is the perfect wedding dress. Designers such as The Cotton Bride, Dalia MacPhee, Morgan Boszilkov, Motasem, Swoon, and Tara Lynn offer bountiful selections of gowns that are cruelty-free and incredibly gorgeous. For instance, this gown from The Cotton Bride's "Fireflies" Collection is both simple and elegant without being over the top.
The Cotton Bride, prices upon request
Want to know what's even easier than finding a vegan gown? Avoiding silk in your dress. Did you know that it takes approximately 3,000 dead silkworms to make a pound of silk? And that, in order to get this silk, the distributors have to boil the worms alive inside their cocoons?
Then there are the shoes. Choosing the perfect pair of bridal shoes might be one of your most deliberated decisions. Of course, the criteria list includes comfort (or at least it should). However, don't forget to seek nonleather comfort. Most leather that is produced within the U.S. is chrome tanned and, as determined by the Environmental Protection Agency, all waste containing chromium is considered hazardous. I think it's fair to say that no bride wants her foot wrapped in hazardous waste on her wedding day (or in all honesty, ever). Some of my favorite finds are these amazing black pumps and perfectly sparkly heels. But maybe you have a more formal sandal in mind.
Skyscraper—Vivienne Westwood by Melissa Shoes £128.00
Now that you have the look, what about the food? Your wedding day should be a culinary dream, and you deserve to celebrate it unabashedly. My suggestion? Do a little research. What do you imagine your loved ones drooling over? Whether you're hiring a caterer, ordering in from a restaurant, or cooking yourself, begin your planning by compiling a list of your favorite dishes. Having suggestions and examples will make the process of putting together a fabulous menu easy. Need help finding recipes? We offer meal suggestions and recipes for wedding reception menus that everyone will enjoy. The best part about having a vegan menu is showing off to your friends and family the amazing vegan options that they may not have known existed.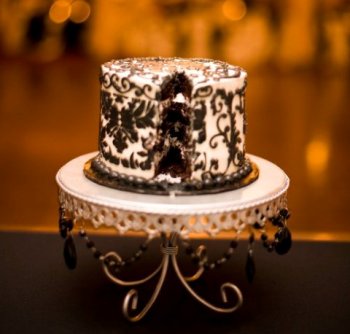 To make your special day even more memorable, consider giving your guests "wedding favors of compassion." Order your PETA wedding favor cards today—they provide the perfect final touch to the table settings at your event.
Of course, there are hundreds of additional options available to make your wedding day cruelty-free. And you should feel incredible that you and your prospective partner love animals and the planet—almost as much as you love each other!
Respond