Vegan Men's Watches: Keeping Up With the Time(s)
The following article was written by guest writer Sean Collander.
In an era when our phones can do everything from displaying the local time in Zaire to tweeting a picture of your pet's "cutest pose ever! OMG," wearing a watch can seem almost as outdated as sending mail via the Pony Express (or just sending mail, period). But if you are like me and feel that the extra three seconds it takes to remove your phone from your pocket to check the time could be better spent concocting your wittiest tweet yet, read on, because these vegan watches could help launch you into Twitter stardom.
Finding a vegan watch for fancy occasions is easy. Observe:
1.  Walk into your local department store.
2.  Pick out a watch with a metal band.
3.  Go home.
See, super easy—only three steps. While you may be able to do the same thing for your typical everyday watch as well, I'm here to show you a few different options that will help you stand out after achieving Twitter fame.
First up is a line of watches made by Swatch called Color Codes. This is one that I stumbled upon while looking for Christmas gifts last winter. With plenty of color options (there are 19), you're bound to find one that fits your style. I'm partial to the "Up-Wind" and "Fresh Papaya" variations. Plus, at $50 a pop, you can probably afford more than just one.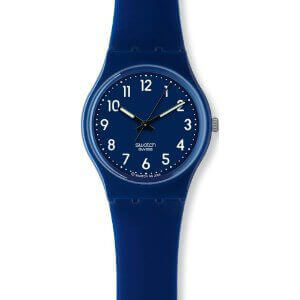 Sample tweet from time saved: "Swatch out, Twitterverse—it's about time [Insert name here] invaded your Twitter stream!"
I'm a bit of a sucker for design. You show me a product that is different from anything I have ever seen and chances are I will want it. Fossil's S+arck O-Ring falls into that category. This watch is what I imagine Thomas Edison thought watches would look like in the year 2011. I mean, look at it! It's like Iron Man teamed up with Fossil to design a watch! The minutes are displayed by the dashes, and the hour is shown as a numeral in its appropriate spot along the watch face. The band is made out of polyurethane, and the watch face itself is encircled by a "stainless steel O-ring."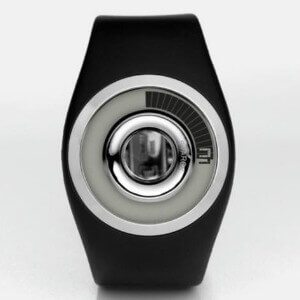 Sample tweet from time saved: "Thomas Edison would be so jealous of my watch! [insert twitpic here]"
This last watch by WeWOOD is my personal favorite for a couple reasons. First off, it's made completely out of wood! When was the last time you saw someone with a wooden watch? Never? Didn't think so. Secondly, not only are these watches totally unique, WeWOOD has also partnered up with American Forests' Global Releaf campaign and pledged to plant a tree for each watch sold. The watch pictured is the CHRONO brown. WeWOOD has multiple designs and different colors, so check out the company's website for all your options. Last I checked, most models on the website were backordered until the middle of July, but I first saw WeWOOD watches at Nordstrom, so you might be able to find them there too.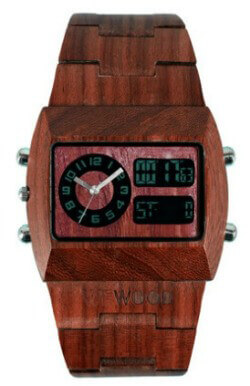 Sample tweet from time saved: "You WOODn't believe what my new watch is made out of! [twitpic of killer new watch]"
Whether you're searching for a watch that looks like it was designed by NASA or one that will help save the Earth, rest assured that there is one out there for you. So go out, find yourself a new watch, and start concocting the next big idea, because you never know when a few extra seconds might come in handy.
Which of these vegan watches is your favorite?
Related Posts
Respond
In This Section