Why TJ Maxx Is Great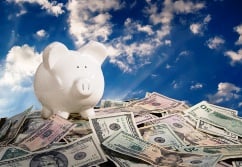 This past weekend, I was doing a bit of holiday shopping, and to my surprise I stumbled upon some amazing cruelty-free body care product deals in the most unlikely of places.
Maybe everyone else has known this for eons, but while shopping at TJ Maxx and Marshalls, I saw some fantastic bargains on products from companies like Nature's Gate, Jason Natural, EO Products, Mrs. Meyers, and more. You just have to look in their special health and beauty care sections.
Furthermore, both stores had a lot of great nonwool sweaters and scarves and even a few synthetic-down jackets. There were also lots of nonleather shoes at a fraction of the price that they would cost in most department stores.
Another store where I have recently spotted some over-the-top deals on cruelty-free products is Big Lots. Big and bright orange on the outside—a virtual treasure chest of cruelty-free finds on the inside. On recent trips, I have seen everything from cheap tubes of Tom's of Maine toothpaste to highly discounted bottles of Method laundry detergent. Last time, I even scored some Freeman face wash for $1.50.
So, if you're looking to stretch your holiday budget by buying cheaper personal-care products for yourself so that you can spend more on gifts for others, you might want to give TJ Maxx, Marshalls, and Big Lots a try. Who knows? Maybe you'll find the perfect gift for that hard-to-shop-for person on your list in the process.
Respond