Summer Sandals for Day and Night!
The following article was written by Royale.
Roped, braided, and knotted, these sandals will you give something to twist and shout about.
Summer is just around the corner, which means that warmer weather is on the horizon. I myself am headed to Costa Rica for some serious seaside sunbathing! Not overpacking has always been a bit of struggle for me, so the sandals that I take with me must be stylish but also versatile.
This month's sandals are perfect for taking a look from sand to supper. Throw them on with a bikini and then add a pair of tights and a dress for a nighttime look.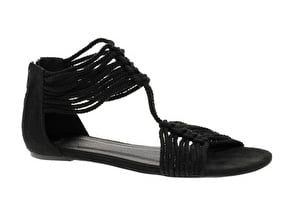 ASOS Fisk: $80.69
ALDO Talaaro: $50
Steve Madden Catalena: $89.95
Colin Stuart Snakeprint Sandal: $48
These sandals are versatile in how they can be worn, and their neutral colors go with almost anything. Yep, they're pretty much the Swiss Army knife of sandals. Bon voyage, my veganistas!
Respond