Step Into Spring With 10 Vegan Office Shoes for Ladies and Gents
Spring has sprung! It's time to put some pep in your step with shoes that slay—on the runway, that is. Real fashionistas know that animals are not ours to wear, and a good look shouldn't come at the cost of a life. Snakeskin shoes, leather pumps, and fur-lined boots are as unfashionable as they are unethical.
For chic and animal-friendly footwear, try one of these pairs of shoes. At the request of a PETA fan, I came up with list of office-friendly pairs—but that doesn't mean they aren't good for off-hours, too. Any time is the right time to dress compassionately!
For the ladies…
A pointed toe and an asymmetrical bow make these dark fuchsia flats flashy enough to grab attention and subtle enough to suit the office. Also available in black and ivory.

Payless Fuchsia Flats, $26.99
You're no slouch on the job—but that doesn't mean your footwear can't be! Look casual but cute with these coral and red ankle cuff sandals, whose slouchy design gives them a devil-may-care look. ($26.99 at Lulus.com)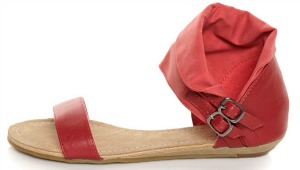 Lulu*s Miss Me Leon 12 Coral and Red Ankle Cuff Sandals, $26.99
Blending vintage charm with contemporary chic, these mustard sandals are perfect for a playful office environment. Their old-school Mary Jane T-straps will make your feet look slim, while crisscrossed straps on the toes will help you flaunt your cruelty-free pedicure. Dress 'em up with a skirt, or play 'em down with tapered jeans and a subtle blazer.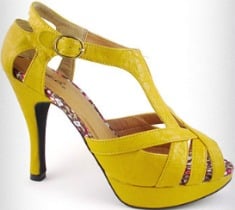 PlasticLand Helix Heeled Sandals in Mustard, $38
Spring is a time to turn up the color dial. With these multicolored sandals, you won't have to pick between wearing magenta, teal, or purple—you can don all three at once. Gold buckles add a bit of shine to already-lovely shoes.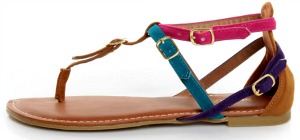 Lulu*s Bamboo Sloane 08 Chestnut Multi Buckle Bash Thong Sandals, $21
Not in the mood for the bright hues that are taking this spring by storm? Try a softer shade with dark blush pumps from Chinese Laundry. While styles may come and go, pastels always prevail.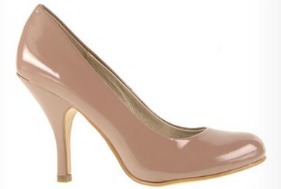 Chinese Laundry New Love Vegan Pumps in Dark Blush, $69.95
And for the gents…
Sturdy as their leather counterpart but twice as kind to animals, these office-ready shoes are the perfect way to let your coworkers know that you're stylish and compassionate. For spring, try them in cherry red, or stock up on winter shoes with a pair in black.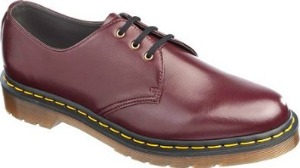 Dr. Martens Cherry Red Vegan Doc Martens, $115
Are you a pencil pusher by day and crowd pleaser by night? Then these are your shoes. With a sleek look and almond-shaped toe, they'll make it easy to transition from a drink by the water cooler to drinks after work.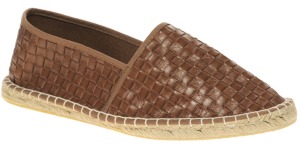 ASOS ASOS Woven Effect Espadrilles, $44.76
These shoes put the "gentle" in "gentleman." Dashingly handsome while cruelty-free, they make it obvious that real men don't need animal products to look like a class act. Wear them to work and watch while coworkers swoon.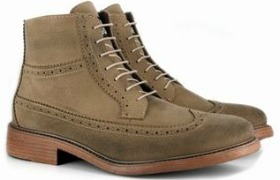 Vegetarian Shoes Ralph Boot, £79.95
Keep your dogs classy in a pair of classic black dress shoes. These sleek shoes pair great with office slacks or a suit, while their faux-alligator skin design screams sophistication.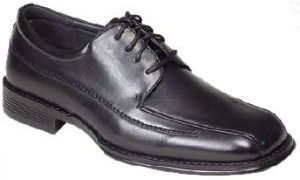 Alternative Outfitters Dresden Black Vegan Dress Shoes, $58
Take a cue from springtime sunshine and throw on a pair of bright yellow boat shoes for work. Casual yet confident, they'll take your button-up shirt and slacks combo to a whole new level.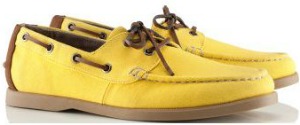 H&M Yellow Boat Shoes in stores only, $29.95
With styles this good, making an animal-friendly fashion statement should be no problem. Grab a pair, pop 'em on, and let your feet do the talking.
Got other faves to share with vegan shoe lovers? Let me know in the comments section.
Related Posts
Respond