Gimmie That Vegan Peacoat!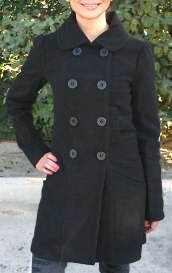 It's getting really cold here in D.C.! And with the cold comes office chatter about nonwool peacoats. I don't know about the rest of the country, but three-fourths of the people I passed on my way to work today had peacoats on. So it seems that if you live in D.C. and don't own a peacoat, well, you obviously don't really live in D.C. Plus, let's face it—they are just so darn stylish!
So, if you're like me and shun wool but are still craving the posh look of the peacoat, have no fear! There are plenty of options out there for us caring consumers that are a lot more friendly on your wallet and animals than their wool counterparts.
If you're looking for your classic black peacoat, Pangea has both men's and women's styles in Polartec. For something with a little more of a tailored look, check out this sweet little number at Zappos. Tilly's carries quite a few cute vegan coats, so you can rock the plaid or, if you're not quite a peacoat person but more of a trench coat person, have no fear, they've got that covered too.
If you're in the mood for something a little more … nontraditional … check out the vast selection at AlternativeOutfitters.com. My favorite is this green piece. So this season, wear a coat that's not made out of wool, and show everyone that compassion really is beautiful.
Respond