Father's Day Gift Ideas for Dad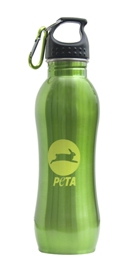 Another year and another last-minute scramble to find the perfect gift for dad. Father's Day is June 20 (you're welcome, for those who are forgetful), and we're here to help you find the perfect gift for your one-of-a-kind dad! In fact, PETA has gifts for all ages, styles, and budgets, and I broke it down for you below.
If your dad is …
All Business
You may be interested in purchasing a PETA Recycled Billboard Toiletry Set to keep him looking fresh at the office. To help dad out during those early morning board meetings, a PETA Porcelain Coffee Cup is the perfect gift for the on-the-go coffee lover. Or you may be interested in a luxury satin tie from PETA 2008 Proggy Award winner Jaan J. Silk Ties & Bow Ties.
The Outdoorsy Type
Let your dad show his PETA support in style with a "Mean People Wear Fur" Eco-Navy T-Shirt and a PETA Green Stainless Steel Water Bottle. For dads who love to explore nature, how about a pair of vegan hiking boots from MooShoes?
A Food Enthusiast
Give him the gift of cooking! The recipes found in these cookbooks can satisfy the taste buds of any hard-working and hungry father. The Conscious Cook and the The Vegetarian Meat & Potatoes Cookbook will have his mouth watering! If you're interested in a classic home-cooked meal for the holiday, check out our Vegetarian Living section for fantastic recipes and meal ideas.
The Guy Who 'Has Everything'
How about treating him to a PETA membership? With a donation of $16 or more, your dad will be entitled to receive a subscription to our easy-to-read quarterly magazine Animal Times, a new-member pack full of tips and information about animal issues, and the satisfaction of helping to put an end to animal suffering.
And for those penny-pinchers, remember: A good old-fashioned handwritten note expressing how much you appreciate him will go a long way too!
Happy Father's Day to all the cruelty-free dads out there!
Respond