Fashion Friday: Summer Is for Baring Skin, Not Wearing Skin
The following article was written by PETA guest writer Leigh-Anne Dennison.
Summertime temperatures eliminate the need for warm layers—making it even easier to fashionably forsake fur, leather, suede, and wool.
Sleeveless shirts and leg-baring little shorts in natural cotton, lightweight linen, or breathable bamboo blends are the attire du jour on hot, humid days. Bold patterns and atypical textures—like this pom-pom shirt—are fun and seem more acceptable during sunny seasons. You might even choose to expose a whimsical side with witty bag like this peeking kitty purse.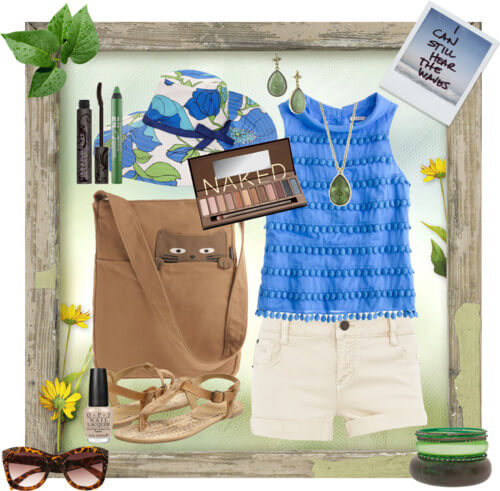 When considering colors for warm weather, look to Mother Nature for cooling clues. Combine grassy greens with bright blue hues, and then pair them perfectly with neutral nudes, sandy taupes, or tantalizing tans for a look as refreshing as a day at the beach.
On the subject of tanning—do leave leather off your list and on the shelves when selecting sandals. Money talks, and your shopping habits speak volumes. Buying beautiful and stylish synthetics in lieu of leather (or snake skin, etc.) for your mostly bare footwear tells manufacturers that when it comes to skins, consumers prefer "to each his (or her) own."
Finally, while less may be more as the temperature's rising, it shouldn't be surprising that this adage doesn't mean you have to jilt jewelry from June to September. A little bit of bling is always a good thing. This earring and necklace set were selected for their similarity to sea glass, while mixed media bracelets exemplify the virtues of natural wood and marvelous metal.
Yes, summertime is a sensational season for animal-friendly fashions—take advantage of sunny days to bare, not wear, skin. Oh, and don't forget to slather on a cruelty-free, vegan sunscreen (30 SPF or higher if possible) to avoid giving your own skin that "leather look"!
Respond