Fake Snake Is Chic … and Cheap!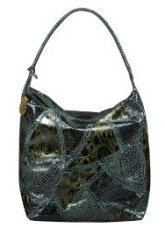 Attention all fashionistas: Get yourself to Target and get your hands on a little piece of designer heaven that won't cost you an arm and a leg … or cost snakes their lives. Just in time for the holiday-party and gift-giving season, Target stores will be carrying a super-cool, ultra-affordable line of fake python handbags by designer Carlos Falchi.
They come in fun colors like plum and teal, as well as the standard neutrals, and they range in size from compact evening clutches to larger bags to fit everything you need for a long day downtown. With prices at $49.99 or less, you can get one of each! These fab fakes are a lot more fun than walking around with the hides of snakes who were skinned alive hanging on your shoulder, if you ask me. It's so easy to find affordable, nice fakes these days, so there's really no excuse for buying the real (cruel, dead) thing.
We'd love to hear about other great fakes and where you found them—tell us in the comments!
Respond