Cruelty-Free Hair Color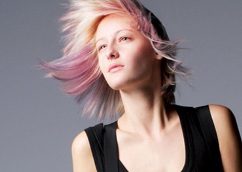 Oh, the fun of hair color! There is just something sublimely satisfying about dying your hair a vibrant shade of red in the middle of a cold and gray winter or bright blond at the height of summer. Fortunately, these days there are many cruelty-free hair colors. No matter if you prefer an all-natural dye, a quick pick-up box from the drugstore, a semi-permanent color, or a salon service, there is definitely something for everyone.
Manic Panic
If you're looking for semi-permanent hair color without ammonia or peroxide, then look no further. Manic Panic has wild and tame colors to satisfy your moods and tresses. Whether you want to have hot pink streaks or just a natural black or brown, Manic Panic is great.
As natural as hair color can be, Morrocco Method's henna hair color products will give you quality color without chemicals or toxins.
Lush
If it's 100 percent natural plant-based henna color that you're after, check out the henna bars from Lush in red, brown, and black tones.
For salon service, try these:
Paul Mitchell
Find a salon
Aveda
Find a salon
What color do you like to dye your hair? Comment and let us know!
Respond