Life as a PETA Campaigner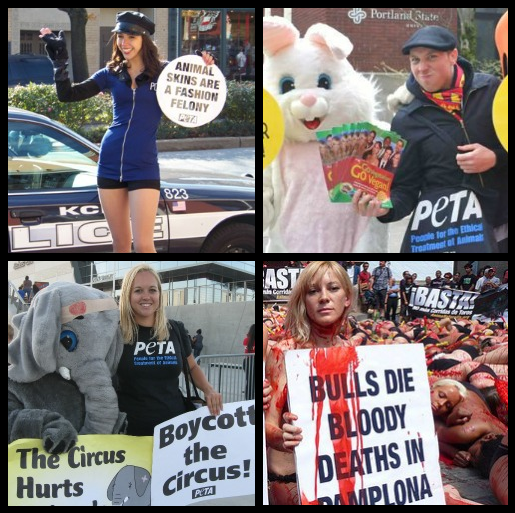 When the suggestion of writing about the life of a PETA campaigner was offered to me, I was excited: Here was the chance to open a window onto the world of campaigning for PETA and highlight the wonderful work (e.g., demonstrations and protests) that we do across America (and Canada and Mexico and …).  I thought, "This will be easy! There is so much to talk about!" Then the time came to sit down and write, and I realized that there is too much to talk about. Where to start?
You see, it's almost impossible to describe what life on the road is like within the confines of a few paragraphs. A PETA campaigner typically spends a couple of weeks every month traveling to any number of cities, from Las Vegas to Detroit and from Orlando to New York City. I may not be able to tell you much about some of the cities I've visited beyond what their airports are like. In any given month, we might lead demonstrations on several issues at once: maybe a demonstration with our giant condoms promoting spaying and neutering animal companions; or perhaps a "Bare Skin, Don't Wear Skin" demonstration with nearly naked volunteers behind a banner reading the same to encourage folks to ditch animal skins from their closets. A question I am often asked by local volunteers at these demonstrations is "When will you be in town again?" The answer is "I have no idea—maybe next week, maybe next year." I joke with my supervisor that she's the Charlie to us "angels": We never know where she's going to send us next, but each time, it's like a secret mission to stand up for animals. Sometimes we get to choose the cities we visit, but for me, the most exciting protests are the spur-of-the-moment projects.
PETA campaigners help come up with and pull off PETA's stunning and attention-grabbing demonstrations (or "demos," as we affectionately call them) and protests all over the world to help put an end to animal abuse and raise awareness about animal rights. If you've seen a PETA demonstration on your local news or if you read the PETA Files, you know that PETA campaigners speak to the media in behalf of voiceless and suffering animals everywhere. If you've been lucky enough to travel on tour with us as a volunteer, you know that we stage week-long tours through parts of the country where we hold a demonstration in a different city every day (for information on volunteer opportunities, check out PETA's Action Center and friend us on Facebook).
What you may not know is that being a PETA campaigner means being a jack-of-all-trades kind of guy or gal. For example, PETA campaigners are endurance drivers: I've driven upwards of 30 hours on a week-long tour—with the help of my trusty iTunes. (I never leave home without music). We are dedicated taste-testers (because visiting a different city every day means scoping out the local vegan fare: yum!), photographers (most of us have separate hard drives just to store pictures of our demos and sight-seeing excursions), tourists (sight-seeing is a must when we need a break from exercising our right to free speech), and repairpersons (if a prop is broken or a costume is missing a part—or missing altogether—it's up to us to make things work).
In the thesaurus, the word "resourceful" should list "PETA campaigner" as a synonym. Among our many skills: We know how to put together a portable shower in 15 minutes flat and how to whip up a batch of fake blood in a hotel room. We can handle any situation that may occur, including having naked cowboys join our shower demo or not having enough room in the rental car for all of our supplies, much less people! (That's campaigns manager Lindsay, aka "Charlie," with the soda in her lap.) Neither rain nor snow, tornado-force winds nor extreme heat, can stop us from getting the message out there and carrying on with a protest!
Most notably, no matter how busy we might be or where we might find ourselves, if we see animals in need, we always stop to help them and work with local authorities to resolve the situation. Each of us has at least one story with a happy ending that involves helping an animal. For example, former campaigner Amanda Fortino, who now works with our membership development department, adopted adorable little Tupelo, an adorable dog whom she found while on the road.
PETA campaigners get to work with dedicated volunteers and celebrities all over the country spreading our lifesaving message of compassion. Oftentimes, we act last-minute on a breaking news story or an animal rights–related issue that requires us to fly out on a day's notice (sometimes less), but that just adds an element of excitement for most of us. The beauty of being a campaigner for PETA is that wherever and whenever animals need us to speak and act in their behalf, we're on site to make sure that the truth gets told and the costume gets worn (or taken off, as the occasion calls for).
In short, we PETA campaigners find ourselves in some unusual and exciting situations in the fight to bring attention to animal rights. Tell us what parts of being a PETA campaigner you'd like to hear about! You can learn more about a few of the campaigners below: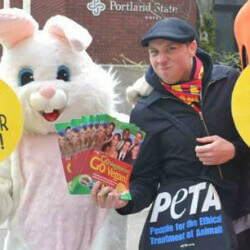 Meet Matt: As a teenager in a small town in northern Utah, Matt realized he couldn't look his vegetarian friends in the eye after chowing down on a rare, bloody steak, so he decided to go vegan. He then went on to work and volunteer with local farm-animal sanctuaries, animal rights groups, and sexual violence awareness nonprofits. His activism took him across the country to tours with hardcore bands as he passed out literature on veganism, to the doorsteps of fur farmers' homes as he protested the killing of animals for their skins, and even across a football field during a televised game as a protest against the use of animals in experiments. Naturally, he felt like he would be a good fit here at PETA. Since bringing his activism to PETA, Matt has dropped banners from freeway overpasses to speak up for turkeys on Thanksgiving, infiltrated the "secure" U.S. headquarters of a major airline in a chimpanzee costume to protest the airline's shipping of primates to labs in the U.S., and stood up for bulls in Mexico City with more than a thousand naked people covered with "blood," all while making headlines from Los Angeles to New York City, India to France, and everywhere in between. For the past couple of years, Matt has been based in our Los Angeles office, where he focuses on animals used in the entertainment industry. When not rabblerousing across the country, Matt likes to ride his bike through the streets of L.A., perform magic at punk-rock shows, and spoil his rescued chow-chow, Bear.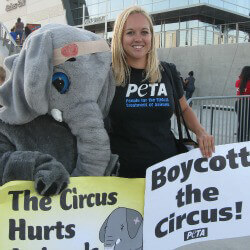 Meet Katie: Katie went vegetarian at 12 years old, when it somehow crossed her mind that if she loved animals, why did she eat them? A few years later, in high school, she went vegan. Her life changed when, in college, she ran into a PETA staffer handing out information about factory farming and playing "Meet Your Meat" on a portable TV. She started handing out leaflets on the spot and realized that she could do more for animals than being vegan by becoming an activist, so she did. Before coming to PETA, she went door to door in her dorm gathering signatures to ban the San Francisco Zoo from having elephants, worked at a vegan hot-dog stand in San Diego, handed out thousands of pieces of pro-vegan literature, and worked as a caregiver and events planner at a sanctuary for rescued farm animals. She spent her first couple of years at PETA organizing an outreach program in Washington, D.C., where she could frequently be found on Capitol Hill handing out vegan Tofurky sandwiches, holding a skinned fox prop to protest fur, or handing out coloring books about the cruelty in the circus. For the last year, she has been based in Los Angeles and travels for PETA to encourage people to help animals by ditching cruel products like fur, leather, down and exotic skins. When not speaking up for animals, she can be found running on the beach, curling up with her favorite Kurt Vonnegut book for the hundredth time, or scavenging Los Angeles thrift stores for a hidden gem.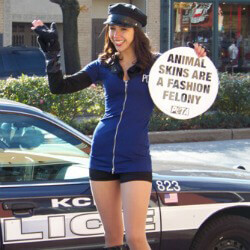 Meet Virginia: Like so many other vegans she knows, the book Skinny Bitch is what opened Virginia's eyes to the disgusting and violent meat industry. She was horrified and felt so guilty that she'd been indirectly supporting the abuse and exploitation of factory-farmed animals that she was driven to learn all she could about factory farms and veganism. After a few minutes of clicking through the PETA website, she declared herself not only a vegan but also an animal rights activist! A few months later, Virginia applied for a job at PETA even though she didn't think she would stand a chance of getting it. She sure is glad she did! Her last 3.5 years have been an adventure: leading demos that include giant dancing condoms who encourage people to spay and neuter animals, painting herself to look like a butcher's diagram showing that all animals have the same parts, and assisting a giant "crippled chicken" to cross the street in front of McDonalds. These are just some of Virginia's "normal" day-to-day activities. When she's not on the road or in a lettuce-leaf bikini, Virginia works at PETA's headquarters in the lovely city of Norfolk, Virginia, and likes to spend her free time relaxing on the beautiful shores of Virginia Beach with friends or curling up with a good book in a cozy chair at home with "mon petit chat noir," Atlas.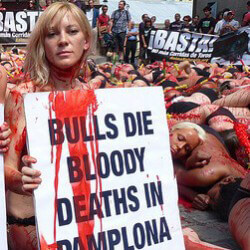 Meet Ashley: Ashley has been working in PETA's campaigns department for four exciting years! Some of her favorite projects for PETA include joining hundreds of other underwear-clad, fake-blood–spattered activists in PETA's massive annual protest against the Running of the Bulls in Pamplona, Spain; storming Wall Street with a crowd of "chickens" to protest an event featuring the CEO of McDonald's; wrapping "bloody" activists in plastic outside a Swift pig slaughterhouse in Louisville, Kentucky, to remind people that the meat in grocery stores comes from animals who didn't want to die; and participating in Turkey's first "naked" anti-fur demonstration in Istanbul, painted as a leopard. Ashley lives in Brooklyn, New York, with a rescued dog named Mongo. She loves traveling, coffee (seriously, lots of coffee), vegan junk food, cruelty-free fashion, going on marathon dog walks, and making music with her friends.
Related Posts
Respond