Highway Hellholes: 17 Roadside Zoos on the Blacklist
If your family is planning a road trip, you can avoid bringing home awful memories simply by not stopping at decrepit roadside zoos and other cruel tourist traps that exploit animals. Vacationers with money to spend are what keep these archaic exhibits in business, and animals will continue to suffer as long as people heed the call of highway billboards and pull over. And don't be swayed by places that tack on the word "sanctuary" or "rescue" to their name—it's a deceptive ploy that many roadside zoos use to dupe unwitting visitors.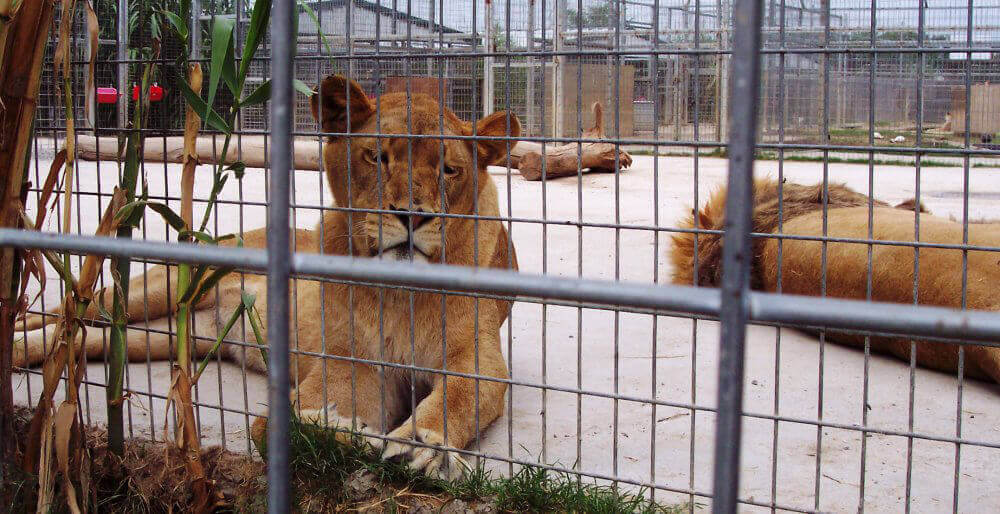 Don't spend any of your vacation time at places where animals will still languish in misery long after you're back home. Here are a few of the grimmest spots for animals:
Alligator Adventure and Barefoot Landing's T.I.G.E.R.S. Preservation Station
North Myrtle Beach, South Carolina
Barefoot Landing allows notorious exhibitor Kevin Antle, who forces tiger cubs and chimpanzees to interact with tourists for cruel moneymaking photo ops, to set up shop. Antle's operation, T.I.G.E.R.S., has been repeatedly cited and has even been fined by federal authorities for serious violations of the federal Animal Welfare Act (AWA), including failure to provide animals with adequate veterinary care, sufficient cage space, protection from the elements, and clean water.
Reptiles aren't regulated under the AWA, so the more than 700 alligators, crocodiles, snakes, and other reptiles at Alligator Adventure are afforded no protection.
Hollywild Animal Park
Wellford, South Carolina
Last year, the U.S. Department of Agriculture (USDA) assessed the roadside zoo a penalty of a nearly $19,000 for egregious violations of the AWA.
In January 2015, an electrical fire killed at least 28 animals at Hollywild Animal Park. Park employees told investigators that the roadside zoo's maintenance staff had done the electrical "upgrades" themselves. Video footage taken at the facility showed animals who were underweight, pacing, crying out in distress, and housed in unsafe enclosures. The U.S. Department of Agriculture (USDA) has cited Hollywild for dozens of violations, including for the death of a baby alpaca who died from unknown causes in the summer of 2015. The baby's mother also died from unknown causes. Several unsheared alpacas endured temperatures of up to 100 degrees while another was found severely underweight. Bears were confined to tiny, cramped concrete dens so small that they couldn't stand on their hind legs, and one had no choice but to lie in her own feces. And a tiger was found caked in filth, confined to a muddy enclosure surrounded by feces and urine. The barn had also not been cleaned in so long that an inspector found the remains of an animal believed to be a deer inside, and discarded building materials and waste were left scattered around the facility.
Waccatee Zoo
Myrtle Beach, South Carolina
Even though keeping a chimpanzee alone is akin to keeping a human in solitary confinement, this roadside zoo kept a chimpanzee named Chico is isolation for more than 25 years. It has also kept many other primates alone. We begged the zoo to relinquish Chico, the lone chimpanzee there, to a sanctuary so that he could live in comfort with other chimpanzees. But the owners refused to do the right thing for this intelligent, social animal, and in November 2015, Chico died suddenly from congenital heart disease. The facility reportedly had no idea that he had a heart condition. Chico was only 31 years old. The facility has been repeatedly cited for failing to provide animals with veterinary care and having filthy water receptacles and enclosures.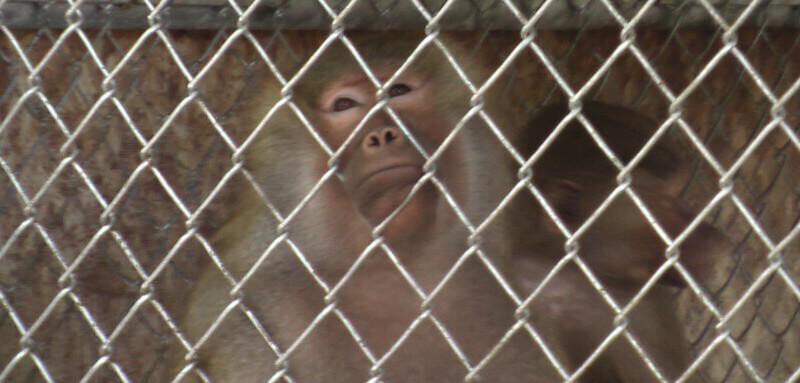 Three Bears General Store
Pigeon Forge, Tennessee
Three Bears General Store is notorious for violating federal animal-protection laws. Visitors to this Tennessee tourist trap have been seen pelting bears with broken dog biscuits and chunks of fruit. The USDA has repeatedly cited Three Bears for failing to allow the animals to enter their dens during the day in order to escape public view or take shelter from inclement weather. The bears apparently have only one water source that they drink from and bathe in. Employees have reported that if the bears are slow to come out of their night pens, they're locked inside for the rest of the day.
The bears were trapped in their holding pens when the General Store burned down in 2008. Instead of closing this roadside zoo down for good, the owners rebuilt.
Bonnie Springs Ranch
Las Vegas, Nevada
Bonnie Springs Ranch has been cited for confining animals to ramshackle, dilapidated cages and failing to provide animals, including a pig with an open wound and a deer with a lump on his throat, with veterinary care.
Serenity Springs Wildlife Center
Calhan, Colorado
This roadside zoo's own records show that between 2008 and 2013, one out of every three animals at the facility died. According to the USDA, most of these deaths were the result of improper handling or a lack of veterinary care for suffering animals. This facility has also acquired tigers from the notorious Garold Wayne Interactive Zoological Park.
Portland Aquarium
Portland, Oregon
Update: The facility closed its doors in 2016, although a spokesperson did not rule out that it could open in a different location. Most of the animals were reportedly shipped to the owner's Austin location. Also in 2016, Ammon Covino, co-owner of the aquarium, was found to be in violation of the conditions of his parole after his 2015 felony conviction for conspiracy to purchase and sell wildlife illegally.
Death logs revealed that more than 200 marine animals died at the Portland Aquarium in just a three-month period—many of the deaths were the result of starvation and other forms of neglect. This facility is owned by brothers Ammon and Vince Covino, who are also involved with other decrepit aquariums in Austin and San Antonio, Texas.
Suncoast Primate Sanctuary
Palm Harbor, Florida
PETA has campaigned against this decrepit hellhole for many years—dating back to when it was called Noell's Ark Chimp Farm. This facility is by no means a "sanctuary" but rather a roadside menagerie with a long history of AWA violations. Even though license revocations are extremely rare, the USDA yanked Noell's Ark Chimp Farm's exhibitor's license in 1999—yet the same roadside zoo, operated by the granddaughter of the original owners, opened a few years later under a misleadingly grandiose name. The facility has been repeatedly cited for keeping primates in rusty, dilapidated cages with jagged edges and it keeps an orangutan named Pongo in solitary confinement in a barren enclosure.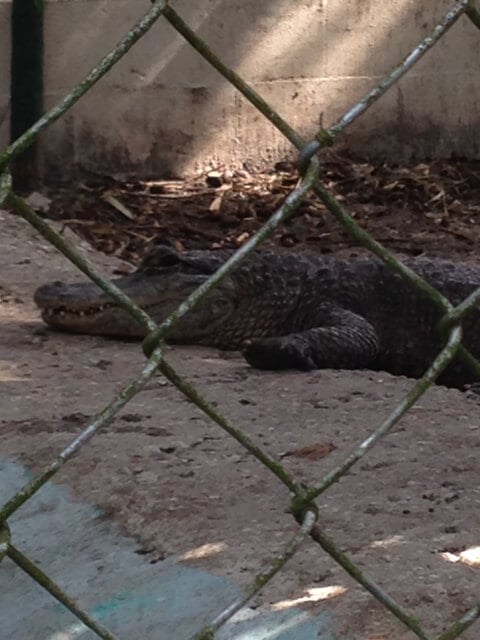 Dade City's Wild Things
Dade City, Florida
Wild Things offers swimming encounters with tiger cubs and alligators. The facility is notorious for incessantly breeding tigers, only to tear the cubs away from their mothers shortly after birth in order to force the babies to participate in the lucrative and cruel encounters. Once the cubs grow too large for public contact, they're relegated to tiny cages on the property, where most will spend their lives on a barren concrete pad.
The roadside zoo has also allowed children to use live pythons as paintbrushes, exposing them to the risk of contracting salmonellosis and other zoonotic diseases.
The USDA filed a lawsuit against the roadside zoo for allegedly exposing young animals to systemic stress and abuse by routinely forcing them to "swim" and "play" with members of the public, without protective barriers.
Jungle Island
Miami, Florida
Jungle Island opened in 1936 as Parrot Jungle and was known for its parrot-on-a-bicycle shows. Its animal shows have remained little more than circus acts, but the focus has switched from parrots to other wild animals—including endangered tigers and orangutans. Visitors are encouraged to pay in order to interact with the animals and have their picture taken with them. The roadside zoo's owner, Bern Levine, has rented out animals for television shows and TV commercials. Levine also discarded an elderly chimpanzee named Edith, sending her to live in a filthy, barren enclosure at a roadside menagerie in Texas.
Jungle Island has also partnered with Kevin Antle. (See T.I.G.E.R.S.)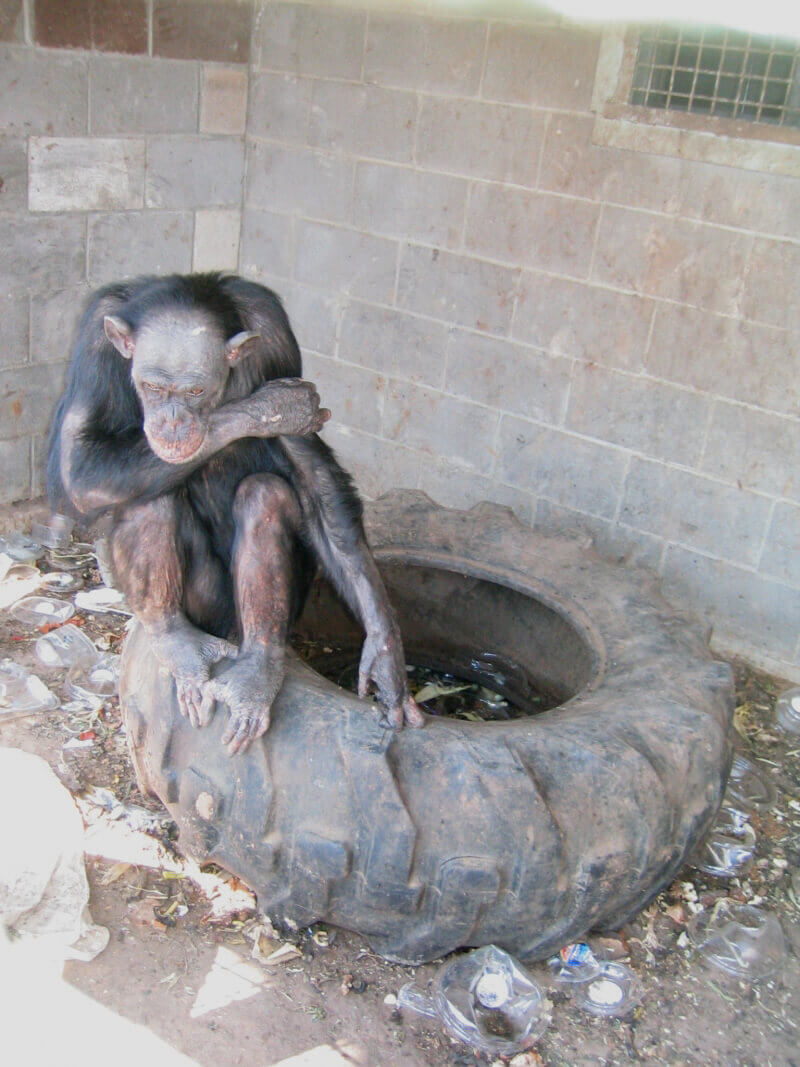 Cherokee Bear Zoo and Santa's Land
Cherokee, North Carolina
Cherokee Bear Zoo and Santa's Land—two roadside zoos located on tribal land in western North Carolina—keep bears and other animals in grossly inhumane conditions. As if they were stuck in a 1950s time warp, these facilities display neurotic, hungry bears in desolate concrete pits or cramped cages in which the animals pace back and forth, walk in endless circles, cry, whimper, and "beg" tourists to throw them food.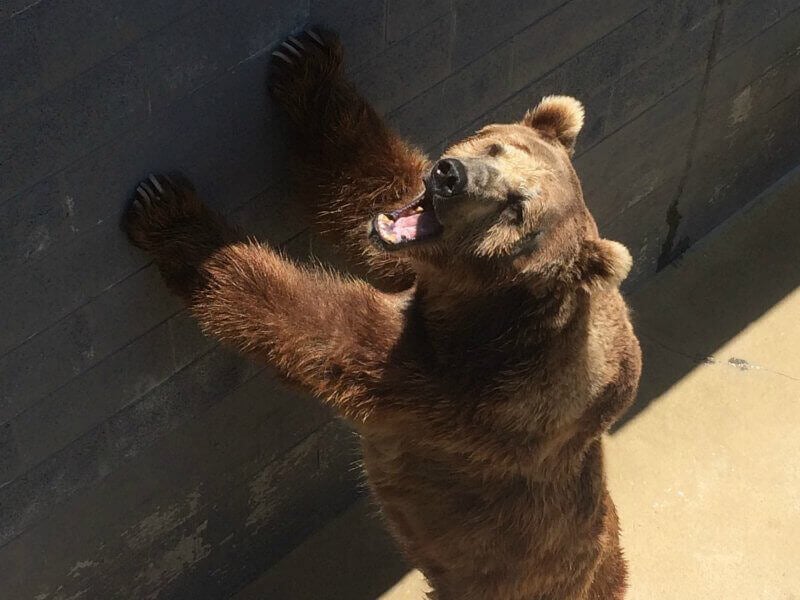 Tregembo Animal Park
Wilmington, North Carolina
In 1998, PETA named this roadside zoo (then known as the Tote Em In Zoo) as one of the worst in the country. Other than the name, not much has changed. Visitors have documented horrible living conditions for animals—including algae-filled water receptacles and tiny, filthy cages—and even bodies of dead and decaying animals on the property.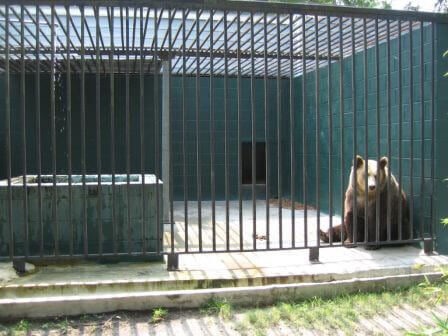 The Garold Wayne Interactive Zoological Park
Wynnewood, Oklahoma
The Garold Wayne Interactive Zoological Park (aka "G.W. Exotics" and "G.W. Zoo") is a sleazy menagerie that buys, sells, trades, and breeds animals. This roadside zoo continues to churn out tiger cubs for use in photo sessions, even though it was under investigation for the deaths of 23 tiger cubs who died within a seven-month period. In 2006, owner Joe Schreibvogel was put on probation for 18 months and ordered to pay a $25,000 fine for nearly 200 AWA violations.
Wild Wilderness Drive-Through Safari
Gentry, Arkansas
Wild Wilderness Drive-Through Safari is a living hell for the animals imprisoned there. Many have lost body parts—from the tips of their fingers to the ends of their tails—likely from frostbite or a lack of veterinary care. The USDA has cited the facility after finding animals who were suffering from lesions and a spider monkey who appeared to have exposed bone on some of his toes. In addition, a lion cub was found dead in his enclosure, apparently having been strangled by his collar. The facility has also repeatedly failed to provide animals with adequate shelter.
The owner has been fined nearly $20,000 for animal-welfare violations, and his son admitted to selling four endangered tigers to a Missouri dealer who killed and skinned the cats and sold their hides.
Marineland
Niagara Falls, Ontario, Canada
Marineland displays one lone orca, beluga whales, dolphins, sea lions, and walruses in cramped tanks. It's estimated that more than 40 whales and dolphins have died at the theme park. Marineland has imported beluga whales and dolphins who were stolen from their ocean homes. Visitors are allowed to feed and touch the belugas throughout the day. The park also keeps bears, deer, bison, and elk confined to cages that are surrounded by noisy roller coasters and other rides.
An investigation conducted by the Toronto Star detailed widespread reports of negligence, cruelty, and mass animal graves.
Guzoo Animal Farm
Three Hills, Alberta, Canada
Update: In May 2015, the facility was finally forced to get rid of all its exotic animals. The owner sold them to other zoos and announced that he plans to keep most of the domestic stock and open a petting zoo.
Animals have lived and died in squalor at this roadside hellhole since it opened in 1990. Over the years, video and photos have surfaced of feces-filled cages, food crawling with maggots, and piles of dead animals on the property. Zoocheck Canada has compiled a full report on Guzoo's appalling history.
Edmonton Valley Zoo
Edmonton, Alberta, Canada
Even though elephants are extremely social animals and need the company of other elephants for their emotional well-being, Lucy has been alone for years at the Edmonton Valley Zoo. Because of Alberta's frigid winters—which are ill-suited to an Asian elephant—Lucy spends nearly half of the year in a small barn and exhibits behavior that indicates severe psychological distress.
Delightful Destinations
You won't be taking home anything but souvenirs and great memories from these stops:
Respond