Cruelty-Free Camping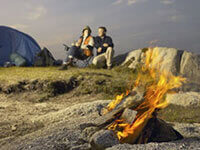 Happy Campers
Looking for some summer fun? Then load the mess kits and matches into the minivan and make a break for the great outdoors—vegan-style. You'll be a happy camper when you fill your pack full of cruelty-free camping gear that makes roughing it easy on animals.
Take a Hike!
We're not telling you off—we're just telling you a great way to enjoy nature without hurting animals! Forget fishing. It's painful to fish when they're impaled, thrown, crushed, or mutilated while still alive. Get hooked on canoeing, bird-watching, or hiking instead. Hit the trails with the following functional, affordable, and rugged hide-free hiking boots:
Sleep Under the Stars
Whether you're unrolling your sleeping bag near the campfire or pitching a tent, there is no reason to pluck a goose to get a good night's sleep. Stay snuggly warm with down-free clothing, blankets, and sleeping bags from the following companies:
Lather on the Lotion
If the sun is burning and the bugs are biting, protect your skin with animal-friendly Kiss My Face sunscreen.
Fix Vegan Snacks
Need we say "s'more" about our favorite camping staple? Throw together some vegan graham crackers, Tropical Source or Endangered Species dark chocolate bars, and Vegan Sweets brand marshmallows. Add a blazing fire, and you've got yourself some seriously gooey goodness (scary campfire story not included)!
Thrill on the Grill
After answering the call of the wild all day, it's time to chill and put some mock meat on the grill! Lots of yummy meatless alternatives can be found at your local grocery or health food store:
Boca Burger Vegan Original
Gardenburger Flame Grilled Chik'n
Lightlife Smart Dogs
Tofurky Beer Brats
Tofurky Kielbasa
Tofurky Sweet Italian Sausage
Vegetarian baked beans—Bush, Heinz, or Amy's
Yves Veggie Cuisine Veggie Dogs
Want something more skewered? Then take a stab at these tasty kebabs:
Marinated 'Chicken' Kebabs
1/4 cup tamari sauce
1/4 cup olive oil
1/4 cup red wine vinegar
2 large garlic cloves, crushed
1 package faux chicken, thawed and cut or torn into chunks
1 onion, cut into wedges
1 green pepper, cut into 1-inch pieces
12 cherry tomatoes
Combine the first four ingredients and beat with a wire whisk until blended. Pour over the faux chicken and refrigerate for up to 24 hours but no less than 8 hours, then put into a cooler to take with you. Alternate spearing marinated mock meat, wedges of onion, green pepper, and whole cherry tomatoes onto skewers. Grill the vegetables and "chicken" until brown.
Makes 2 to 3 servings
Visit PETA.org for more delicious recipes for the grill!
Be a Good Guest
You're just visiting, but animals live there. For tips on respectful camping, we recommend the following Web sites:
Related Posts
Respond