Change Animals' Lives With Your Change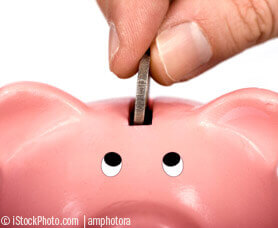 The following article was written by Jeff Mackey.
Like to help animals but don't have much time? Want to donate to PETA but aren't sure of your finances from month to month? Now, it can be as simple as swiping your debit or credit card!
PETA is now a featured charity on SwipeGood.com, which allows individuals to sign up their credit or debit card and donate the "loose change" from each purchase—it's as easy as that! SwipeGood.com simply rounds up all purchases to the nearest dollar, and the extra money goes to support PETA's work to protect animals.
No need to worry if you can only afford so much—you can easily set a monthly donation limit or pause your giving at any time. Your donation will be made in one lump sum at the end of each month. SwipeGood.com launched in November 2010 and makes giving effortless and safe—it's secured by VeriSign and verified by TRUSTe.
Best of all, with minimal effort, you can help PETA continue our work to save animals' lives—from sending undercover investigators into slaughterhouses and laboratories in order to document rampant cruelty to passing out information about animal abuse on busy street corners to launching celebrity campaigns that garner millions of dollars in free media coverage to providing sturdy, weatherproof doghouses, warm straw bedding, and spay and neuter surgeries to animals suffering at the hands of neglectful humans.
Your help can make all the difference for animals in desperate need, and all you have to do is sign up—just click here to get started.
Hurry—this week only, SwipeGood.com will donate $10 for every new PETA signup!
Related Posts
Respond