Variety Is the Spice of Life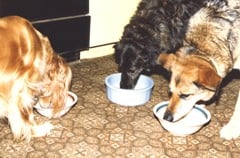 The following post was originally published by Karen on KP's Dog Blog, February 25, 2008.
What are you having for dinner tonight? Spinach-mushroom lasagne with garlic bread? Pesto sauce served over angel hair pasta? Grilled Cajun portobellos with avocado crème? Japanese eggplant skewers with red curry coconut sauce? Mmmm! Or maybe you're going out to eat at the Olive Garden or PF Chang's or TGI Friday's. Yum! … And what about Fido? What's he having for dinner? Oh … dry kibble. The same kind he had yesterday? Hmmm. I bet he's thrilled with that.
I'm not really enamoured of kibble―I can tell you that much. I haven't fed my dogs kibble in more than 15 years. With regard to the nutritional value of kibble, it's denatured, overly processed, often full of fillers, and just plain dry. Plus, as soon as you open that bag, any oils in the food start to go rancid, so about 48 hours later, you've got important fats that are turning against Fido instead of benefiting him. But there's another reason to ditch the dry food: It's just so excruciatingly boring, night after night, day after day―the same old same old. Don't believe it when so-called "experts" tell you that you have to be cautious about varying your dog's diet. It's just the opposite. Dogs who eat the same thing year after year often develop an allergy to the protein in the food or some kind of deficiency. Variety is the spice of your dog's life just as it is yours. You can give Fido something different at each meal. I've been doing this with my dogs for the past five years, and I can vouch for the fact that not a one of them has suffered any dire consequences―not even gas.
You can accomplish this either by buying dog food in cans, which allows you to select a wide variety to have on hand, or by making your own dog food (there are oodles of recipes online as well as entire dogfood cookbooks).
I know, some people are feeding their dogs a "special" diet. But that special diet was formulated as a single product for the mass market―that doesn't mean that there can't be other versions of it. Do your homework. Go online and find out what's in it and why it's "special" and how you could replicate it using other types of food. Be sure to check with your vet to make sure you're on the right track.
At the very least, you could spice things up by offering your dog some fun, delicious, and nutritious side dishes or "desserts." Here are a few suggestions just off the top of my head:
•Veggies sautéed in olive oil
•Chunks of baked yam
•Mashed bananas with a little flaxseed oil and spirulina mixed in
•Raw veggies processed in a food processor with a little water and nutritional yeast
•Steamed green beans mixed with shredded coconut
•Some whole wheat pasta mixed with a little tomato sauce
•A bowl of salt-free vegetable broth with peas floating in it
•Steamed veggies drizzled with coconut oil
•A small bowl of brown rice and chick peas sprinkled with ground-up peanuts
•A bowl of steamed broccoli or cauliflower
•A whole carrot (or a baby carrot for the tiny dogs)
Your dog will be delighted!
(Do stay away from onions, avocados, chocolate, grapes, and raisins, though, which are all harmful to dogs. And please leave out the junk―sugar, salt, hydrogenated oils, white flour―the same things that are junk for you.)
Respond