PETA Picks: 5 Great Toys for Cats, Dogs, and Bunnies
Here at PETA, we know more than the average bear about animal overpopulation. That's why we advocate spaying and neutering your animal companions and why we're also big fans of animal adoption.
Visit our Los Angeles office, and you'll see that most desktop picture frames hold photos of adopted furry friends. They're members of our family, and we treat them that way. When it comes to caring for them, one thing we're guilty of is spoiling them a bit. We love to see our fur kids run, jump, and tumble with their toys.
To spread the good word about playtime with companion animals, we asked five PETA employees to share their favorite toy to buy for their animal. Here's what they had to say.
Note: Click on the image below to go straight to the source and purchase a toy for your little pal!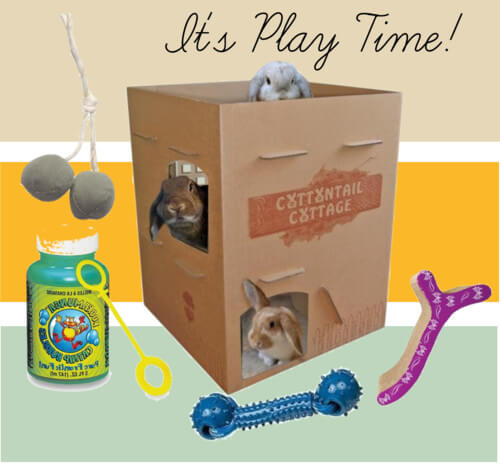 Christine says … CatIt Style Scratcher
Even though it seems like the more money I spend on toys for my two cats, the more they lean toward playing with bottle caps and shoe boxes, I have had a lot of luck with cardboard scratch pads. Most recently, I bought the Catit Style Scratcher, and my calico, Howdy, LOVES it. Not only does she scratch it all throughout the day, she also likes napping on its unique shape (not to mention that it saves my furniture from claw marks).
Sara says … KONG The Beast Rope Chew Dog Toy
Toys don't last long in my house, and so anything that remains intact for more than a day is a keeper! This KONG toy is my favorite because it's indestructible while allowing my dogs to take turns playing tug-of-war with one another.
Courtney says … Cottontail Cottage With Ramp
The Cottontail Cottage is great for bunnies because it gives them a lot of options for what they want to do. It has three levels, so they can pick where they want to snooze, and they can do as much "remodeling" as they want because the cardboard is safe for them to eat!
Monica says … CatIt Terra Toy Linen and Rafia Cherries Cat Toy
My cat loves this toy because she can run around and play cat soccer with it. I like it because it's made with all-natural materials and recycled packaging.
Rachelle says … Catnip Bubbles
Um, what's not to love about catnip bubbles? If you like to see your kitties jumping, playing, and being super adorable, these do just the trick! And they're fun for you, too.
What does your furry friend like to play with? Let us know in the comments section!
Respond