People Who Shouldn't Get Dogs
Written by
September 8, 2010
|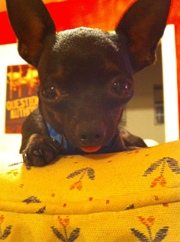 Last week, my girlfriend, Meghan, and I fostered a li'l buggy-eyed pup. Meghan found Emily, as we eventually named her, dodging traffic in downtown Norfolk and at serious risk of being hit by a car, injured or killed by another animal, or nabbed by the wrong person. Little Emily barely weighed 3 pounds, and she was frightened, collarless, and without a microchip. We contacted our coworkers at PETA for advice on helping to locate the puppy's guardian.
A couple days later, there was a line of people begging to adopt the puppy if the owner didn't come forward. Something about Emily's buggy eyes and a tongue too big to fit into her mouth grabbed people. Meghan could barely walk 2 feet with Emily without being assaulted by puppy lovers. If only people clamored this way for a fraction of the millions of unwanted dogs dying for a home in shelters each year, we'd be much closer to beating the animal homelessness crisis.
Eventually Emily's "owner" called PETA. However, what should have been bittersweet (we had grown attached to Emily) was instead just bitter. Emily hadn't just run away—she had escaped through the cracked window of the car she had been left in while her owner was at work. And then he didn't even try to find her. He just "accepted the fact that she was gone." Only later did he realize that his kids might miss her so then gave PETA a ring. Outrageous!
At first we were just annoyed that Emily wasn't spayed (with the owner's permission, we did that before returning her), not to mention (again) collarless and without a microchip and all of maybe 3 pounds! Unfortunately, some people just don't know why spaying and neutering is so critical. But people who leave their dogs in (deadly hot) cars while they are at work—and who don't care if their animal gets away—those are people who should never have animals in the first place. It broke Meghan's heart to have to send Emily back to owners who clearly didn't appreciate her or the danger they had put her in. That she was still alive was nothing short of a miracle.
So please, if you know people who are thinking about getting an animal but aren't willing to make him or her a top priority in their lives—tell them to think again. And then think once more. And if they decide that they have the time and resources to make an animal part of their family, please tell them to go to their local animal shelter and save a life.
Respond
In This Section