Companion Animal Food Guide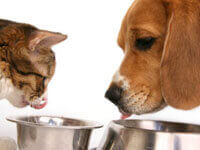 After uncovering extensive abuse of animals at a testing laboratory for dog and cat food maker Iams, PETA contacted hundreds of companion-animal food companies to ask if they conduct laboratory tests on animals. None of these tests is necessary or required by law, and humane alternatives do exist. Non-invasive, nonlethal, and cage-free "in-home" testing is conducted by PetSci, and collaborative veterinary clinic studies allow sick animals who are volunteered by their guardians to participate in humane feeding trials that can determine the beneficial effects of nutrition on a specific illness.
The following companies have assured PETA in writing that they do not test on animals in laboratories. Companies that are not on this list either responded to let us know that they do conduct laboratory experiments on animals or failed to respond to our numerous inquiries and are assumed to conduct laboratory experiments on animals.
[Important Note: If you have been feeding your companion animals commercial pet foods, you may be jeopardizing their health. Supermarket pet foods are often composed of ground-up parts of animals deemed by U.S. Department of Agriculture inspectors unfit for human consumption. The flesh of animals who fall into one of the categories of the four D's—dead, dying, diseased, or disabled—is what often goes into pet food. Many of these animals have died of infections and other diseases. In all but a few states, it is legal to remove unusable parts from chickens and sell them to pet food manufacturers. Most pet foods contain the same hormones, pesticides, and antibiotics that are found in commercial meat products for humans. If you are concerned about your companion animals' health and about the cruelty of the meat industry, now is the time to stop buying meat-based commercial pet food. Learn more about healthy vegetarian dog and cat food options.]
(Click here for the U.K. version of this list.)
Entirely Vegan
Boston Baked Bonz
781-752-4040
www.bostonbakedbonz.com
Happy Dog Food
1-800-359-9576
www.happydogfood.com
Harbingers of a New Age
406-295-4944
www.vegepet.com
Rex's Barkery
804-761-5371
www.facebook.com/rexsbarkery
Threepaws Gourmet
414-375-9096
www.threepawsgourmet.com
V-dogfood LLC
1-888-280-8364
www.V-dogfood.com
Vegan Dog Delights
408-857-0545
http://www.vegandogdelights.com/
Vegetarian/Vegan Options
Amoré Pet Services, Inc.
Vegetable-only raw food
1-866-572-6673
Bravo Raw Diet
Ground vegetable formula
1-866-922-9222 

Dr. Harvey's
Vegetarian dehydrated dog food
Vegetarian dehydrated cat food
1-866-362-4123
Dry Fork Milling Co.
1-800-346-1360
Evanger's Dog and Cat Food Co., Inc.
Vegetarian canned dog/cat food
Vegetarian canned dog/cat food
1-800-288-6796
Holistic Blend
Vegan canned dog/cat food
1-800-954-1117
The Honest Kitchen
Vegan dehydrated dog food
858-483-5995
Natural Life Pet Products, Inc.
Vegetarian dry dog food
1-800-367-2391
Oma's Pride
Fruit and veggie mixes
1-800-678-6627
Onesta Organics, Inc.
Vegan veggie treats for dogs
619-295-1136
Pet Chef Express
Vegan dog biscuits
604-916-2433
PetGuard
Vegan canned dog food
Vegetarian canned dog food
Vegetarian dry dog food
1-800-874-3221
904-264-8500
PoshNosh Inc.
613-747-1542
1-866-893-4006 (Outside Ottawa-Outaouais)
Raw Advantage, Inc.
Vegetarian dog/cat formula
360-387-5158
Solid Gold
Vegetarian dog treats
800-364-4863
Want A Cookie? (has vegan options)
250-665-7387
www.wantacookie.ca
Wysong Professional Diets (has vegan options)
Vegan dog and cat food
1-800-748-0188
Respond