Add Zing to your Complexion with Zia Natural Skincare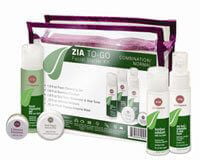 It's only natural that Zia Natural Skincare is a must-have for a constellation of Hollywood starlets and make-up artists. After all, this luxurious line's collection of stellar skincare products and cosmetics has received nothing but rave reviews in a flurry of magazines including Allure, Real Simple, and Men's Health.
Crafted from a premium blend of all-natural, never-tested-on-a-bunny botanicals, vitamins, amino acids, and age-defying antioxidants, Zia's vast variety of cleansers, toners, and moisturizers delivers visible and long-lasting results. Not just good for your skin, Zia also has products that look great on your skin! Unlike lots of other brands of make-up that leave your face looking and feeling sand-blasted, Zia's assortment of sheer foundations and powders are guaranteed not to crease, cake, or flake out on you.
Committed to replenishing your complexion, this eco-friendly company is also devoted to re-leaf of the Earth. Available at health food stores, specialty stores, and online, a portion of every Skin Basics purchase is donated to the Global ReLeaf Project, a program that focuses on planting trees to replenish forests damaged by wildfires.
Just as dedicated to creating cruelty-free products that are never tested on animals, PETA is proud to honor Zia Natural Skincare with our Trail-Blazer Award.
To learn more about cosmetics testing on animals, go here.
Related Posts
Respond