Indulge in Urban Apothecary's Awesome Cruelty-Free Cosmetics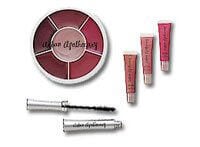 It's no wonder that Urban Apothecary products are on the eyes, lips, and all the other fabulous features of dazzling stars such as Halle Berry, Cameron Diaz, Pamela Anderson, and Penelope Cruz. After all, this luxurious line's collection of high-quality, high-definition, cruelty-free cosmetics has received nothing but rave reviews in a flurry of famous magazines, including Allure, Marie Claire, Us, and InStyle.
What makes Urban Apothecary the pick of the cosmetics crop? It's the cosmeceuticals, of course—a fancy word for "super food for your skin." All of Urban Apothecary's all-natural makeup and skin-care products are infused with a vital combo of vitamins, amino acids, botanicals, and age-defying antioxidants that nourish your skin while leaving your complexion glowing.
As the creative force behind the "daringly different and luxurious Urban Apothecary beauty brand," Urban Apothecary president Cheri Tracy has a raw talent for using such exotic raw materials as Himalayan goji berries bursting with beta carotene, B vitamin–rich European truffle oil, and gyokuro green tea, which eliminates free radicals, to create good-for-you goods "of the highest quality and performance." Although we love all these and the many other innovative, all-natural ingredients found in Urban Apothecary's products, what impresses us the most is what's not found in its products: cruelty to animals.
Using PETA's bunny logo on its Web site to let consumers know that its products are completely animal-friendly, the kind company states, "We do not, nor will we ever, test or condone animal tests. We believe that you can have a great look without killing or harming animals."
We couldn't have said it better, and in honor of her commitment to never testing products on animals, PETA is thrilled to present Urban Apothecary's Cheri Tracy with our Trail-Blazer Award.
To learn more about cosmetics testing on animals, go here.
Respond