Moisturizing Hand Treatment—Making Hands Happy All Winter Long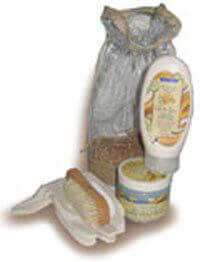 This treatment soothes chapped, dry hands caused by winter weather and helps keep hands moisturized and baby soft all year round.
What You Will Need
Hand cream: Garden Botanika High Intensity Hand Treatment, Crabtree & Evelyn La Source 60-Second Fix Kit, or Freeman Bare Hands Complete Hand Care Kit (comes with body polish, lotion, pumice stone, and a pair of conditioning gloves)
Homemade hand cream: Combine wheatgerm oil with your favorite essential oil. We recommend sandalwood, chamomile, or rose oil
Pair of cotton gloves: Garden Botanika Immersion Gloves
Note: Do this treatment before going to bed.
Procedure
Wash your hands with lukewarm water.
Exfoliate your hands (optional).
Apply a generous amount of the hand cream to each hand, making sure to work it into your skin.
Put on the cotton gloves. Leave them on all night.
Rinse residual lotion off your hands using warm water and gentle soap the next morning.
Repeat this treatment as needed, and be sure to moisturize your hands throughout the day.
Tips for Happy Hands
Always wear gloves when doing household chores.
Ditch harsh soaps. Keep your hands soft by using cruelty-free creamy bath soaps instead.
To prevent chapped hands, avoid going outside with damp hands during cold weather. Whether you like them funky or made of faux fur, always wear gloves in the winter to protect your hands from becoming dry, cracked, or chapped.
For more information on cruelty-free living, please go here.
Respond