Featured Cruelty-Free Company: Manic Panic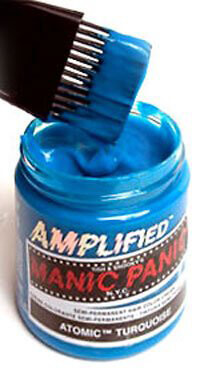 The seasons have changed, so why not your hair color? Whether you are looking to change your blond streaks temporarily to Electric Flamingo™ for a night at the club or you are looking to go all the way from brown to Bad Boy™ Blue for the summer, Manic Panic has got you covered and will satisfy your creative urges with all the colors of the rainbow—and some that you didn't even know existed.
When Manic Panic founders Tish & Snooky started their small NYC shop in 1977, they may have never thought that one day their punk rock hair dye would hit the mainstream, but we are oh-so-glad it did! Besides caring about giving Dyehards the tools to express themselves with color, Tish & Snooky also care about animals. None of Manic Panic's products is tested on animals—instead they are tested on celebrities like Cyndi Lauper, Joss Stone, and Dennis Rodman.
For those who wish to add a little flair to their hair without the commitment of chemically altering their color, Manic Panic also has a wide array of Glam Strips™ and wild wigs in all styles and colors to match your imagination. Plus, they even have cruelty-free nonfeather boas—va va voom!
In addition to all the glam available for your tresses, Tish & Snooky also specialize in adorning your face and nails. They have Jumbo Glitter Glam Pencils™, luscious lipsticks, Dreamtone™ Foundation, vibrant eye shadows, nail polishes, and so much more. They even offer many cosmetics in the same shades as their hair dyes—so you can have nails and lips to match your lovely locks! With such great products and compassionate founders, it's no wonder that everyone is indulging in a little Manic Panic.
To learn more about cosmetics testing on animals, go here.
Related Posts
Respond