Featured Cruelty-Free Company: King of Shaves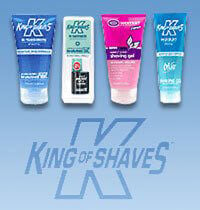 King of Shaves specializes in men's and women's shaving gels and skin-care products. Founded in 1992 by Will King, King of Shaves started out selling one product every two weeks. These days, it sells one every seven seconds.
King of Shaves was a hands-on business from the very start. King created the formula for his original shaving-oil product in his spare bedroom and then filled the first 10,000 cans himself over the kitchen sink. Now carried in 20,000 stores across the U.S., including CVS, Rite Aid, Walgreens, and Wal-Mart, King of Shaves is still devoted to taking care of its customers—which means that its products will never be tested on animals. The company gives back to its animal friends too: It donated products for the Humane Society of New York's 100th Anniversary Benefit.
King of Shaves products consistently receive rave reviews from men's magazines such as Maxim and FHM, and one of King of Shaves' most popular product lines, XCD, was talked up on TLC's makeover show What Not to Wear.
PETA salutes King of Shaves for keeping animals and compassionate shavers everywhere happy.
Read more about cosmetics testing on animals.
Respond