Give Your Makeup Bag a Vegan Makeover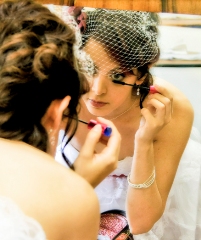 I've been a compassionate beauty junkie for as long as I can remember. I feel very lucky that there is a plethora of vegan beauty options that run the gamut from hair care to eye shadow. Here's a list of some of the vegan beauty products that I've become smitten with over the years. Any of these would make the perfect addition to your makeup bag. So here they are—in no particular order, but all particularly awesome.
Crazy Rumors Lip Balm: These lip balms are 100 percent vegan and come in really fun and tasty flavors: Fresh Squeezed, A La Mode, Brew, Perk, Gumball, and Soda, and Candy Cane. I highly recommend them all! They are the perfect consistency—not oily, lumpy, or sticky—and they are packed with moisturizing ingredients like jojoba oil, organic shea butter, extra virgin olive oil, and vitamin E. They are also naturally sweetened with stevia. My faves: Amaretto and Orange Bergamot.
Giovanni Hair Care: This is a nourishing hair-care line that is salon-quality and super-effective, and it smells amazing. Giovanni offers different formulas for all hair types and hair-care needs, and it is available at Target, making it accessible to all. This hair-care line is comparable to traditional shampoos and conditioners except that it's even better—it's organic, primarily vegan (some products contain honey, so be sure to read the label and avoid those), and never tested on animals. A couple of my faves: Tea Tree Triple Treat Shampoo and the Smooth as Silk Shampoo.
LUSH: Bath time can be vegan, sexy, and fun, all at the same time. LUSH has a line of vegan bubble bars, bath bombs, lotions—you name it! I highly recommend the Sex Bomb and the glittery bubble bars. The company also donates money to a range of environmentally and animal-friendly charities.
Earth Science Skin Care: These products are available at Whole Foods Markets, are cruelty-free, and are primarily vegan (with the exception of a few that contain beeswax—it's always a good idea to read all the ingredients). They are hypo-allergenic and don't contain any methyl or propyl parabens. Also, the company's skin-care line is pH-balanced and works like a charm. My faves include the A-D-E Creamy Cleanser (perfect for dry or mature skin) and the A/B Hydroxy Acid Night Rejuvenator (packed full of hydroxy acids, antioxidants, and hyaluronic acid—wrinkle fighters!). So there you have it, folks! If you can't find these products at a store near you, check out the companies' Web sites to order online.
What are some of your favorite vegan beauty products?
Respond