DIY Bronzer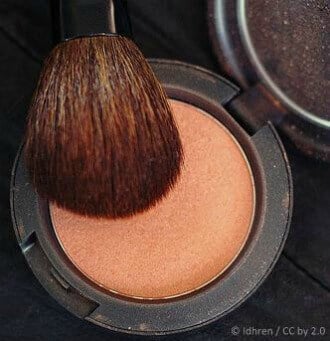 Fall is my favorite season. I love the cool, crisp air, the trendy sweaters, the seasonal baked goods, and the anticipation of Halloween costumes and parties. But as summer comes to a close, many of us lament the shorter days and the end of beach season. Without the opportunity to lounge lakeside or poolside, our tans will begin to fade, and paleness will return. With skin as fair as mine, this happens quickly. Like, after a week sans sun exposure. Sigh.
The only way to maintain that healthy, warm-weather glow is to hit the tanning salon or invest in expensive, high-end bronzers, right? Wrong. Just head to the kitchen pantry! Here's a thrifty, cruelty-free beauty recipe that calls for only two ingredients and a container to store it in.
Mix the ingredients together until you've reached your desired shade for bronzing. Add more cocoa or cinnamon powder to darken, or add more sugar or baby powder to lighten. If you're naturally fair-skinned like me, I suggest adding the cocoa or cinnamon powder sparingly, a little at a time. I mean, unless you want to achieve this kind of look… Pour the mixture into the sifter jar or compact, apply using a blush brush, and voilà—you have the look of sun-kissed skin!
Now you can easily maintain your summery, bronzed glow throughout the fall and winter. Bring on sweater weather, bonfires, and apple cider!
Related Posts
Respond
In This Section