Cruelty-Free Makeup Brushes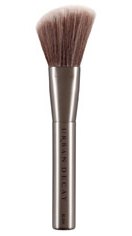 The following article was written by Liza Chung.
With so many options available to us, it is becoming increasingly difficult to know which makeup brushes are worth spending money on. For makeup artists, high-quality brushes are an essential part of a successful business and a worthy investment. However, you don't need to be a makeup artist to have the right tools to help you create a flawless look.
Natural vs. Synthetic
Here are just some of the benefits of using a synthetic brush over one made with animal hair:
Synthetic brushes are easier to clean.
Synthetic brushes repel bacteria and dirt better than animal hair does.
Many people have allergies to animal hair.
Synthetic brushes shed less, if at all.
Synthetic brushes work with both cream and powder makeup products.
Buying a synthetic brush is the only way that you can know for sure that no animal was harmed in the creation of the brush.
Animal hair, like human hair, is porous, which means it absorbs things like bacteria. Although you may wash your brushes regularly, some dirt or bacteria may remain in the bristles of an animal-hair brush. Synthetic bristles actually repel dirt and bacteria, making them much easier to clean because they get less dirty to begin with. As a general rule, makeup artists do not use animal-hair brushes for cream products for this reason. If you apply a cream-based product with an animal hair brush, the brush will likely absorb the product, staining and ruining the brush. When you purchase a synthetic brush, you are actually getting two brushes in one! For example, someone who uses animal hair brushes would need two separate brushes—one for powder eye shadow and one for cream eye shadow. If you own a synthetic eye-shadow brush, you can use that same brush for both cream and powder products. In fact, today's high-quality synthetics will pick up just about any makeup medium with ease, including powder-based products!
Anyone who has ever used an animal-hair brush knows that they are prone to shedding. Luckily, the majority of synthetics do not shed at all. Therefore, you won't have to worry about picking hairs off your face or ruining the makeup job that you just worked so hard to finish.
Another common question that I get about animal-hair brushes is "Do they really have to kill the animal to make the brush?" That is a fair question. Many animal-hair brushes are made of animals such as squirrels, raccoons, or badgers. I don't know about you, but I can't picture Fred the squirrel sitting still in a chair for a haircut. Even if he would, is it really our right to keep him caged for his whole life when a better alternative exists?
The sad reality is that the animal-hair makeup brush industry supports the fur trade. Yet many women I know who would never wear a fur coat don't think twice about applying their makeup with a squirrel-hair brush. It is this very idea that made me realize that I had to speak up for these animals. There are better options available, and you can make a difference. I don't know about you, but the idea of rubbing a dead raccoon on my face doesn't sound all that appealing, let alone beautiful. It is truly inspiring to see how many women have taken a stand against animal testing. I challenge you to take that notion one step further and think about the brushes that you are applying your cruelty-free makeup with. Together, we can be the change that we want to see in the world and help reduce cruelty to animals. Together, we can help make the beauty industry truly beautiful, both inside and out.
Looking for cruelty-free makeup brushes? Plenty of companies offer high-quality synthetic brushes that are also affordable. Here are few to get you started:
100% Pure
The Body Shop
Kelly Quan
Nanshy
Obsessive Compulsive Cosmetics
Too Faced
Urban Decay
Respond