Cancer Treatment Research Foundation: Incorporating Compassion in the Search for a Cure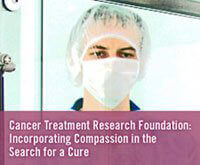 Nearly every family in America has been affected by cancer in some way, and many caring people want to help find a cure but are hesitant to contribute to charities that waste funds on animal testing.
One humane and effective organization is the Cancer Treatment Research Foundation (CTRF), a recipient of the Humane Charity Seal of Approval. CTRF does not fund cruel animal experiments, wasting precious dollars that could be spent on promising human-based programs.
Since its inception in 1992, the mission of this Illinois-based foundation has been to eliminate cancer by funding innovative, patient-driven clinical research that moves research from the laboratory to the patients who urgently need it.
The foundation has committed more than $12 million to research projects around the world. CTRF-aided researchers have studied all types of cancer, patient quality of life, and pain management strategies, have made significant advances in vaccine therapies for lung cancer and multiple myeloma, and have developed treatments for neuropathy, a painful nerve toxicity that can result from some types of chemotherapy.
CTRF saves human lives without ever ending an animal's life. "It is important for CTRF to have the Humane Charity Seal of Approval," says Alicia Stephenson, chair of CTRF's board of directors. "The research we approve across the world is well past the test-tube stage and has never included animal testing. Instead, we fund promising clinical research that can have immediate patient impact."
For more information or to make a donation, please visit CTRF.org.
Related Posts
Respond