The Breast Cancer Fund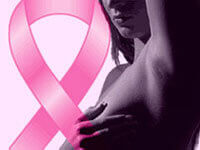 Experts estimate that every 12 minutes an American woman dies of breast cancer, and it is the leading cause of death for women between the ages of 40 and 59. Many people know someone fighting breast cancer—or face their own battle. They want to help find a cure, but they are hesitant to contribute to charities that waste funds on cruel animal testing.
PETA honors the Breast Cancer Fund as a Life-Saving Charity because it works to identify and eliminate environmental and other preventable causes of breast cancer without harming any animals. The BCF uses public education, policy initiatives, outdoor challenges like mountain-climbing fundraisers, and other innovative campaigns to get people involved in bringing an end to breast cancer.
Obsessed With Breasts
The BCF borrowed a page from PETA's eyebrow-raising book in 2000, when its "Obsessed With Breasts" campaign covered San Francisco Bay-area bus shelters with ads featuring models showing their mastectomy scars and asking, "Society is obsessed with breasts, but what are we doing about breast cancer?" For the Breast Cancer Fund, the answer is giving its all to help treat already affected women and to find a cure to prevent more women from suffering from breast cancer.
Search for more cruelty-free charities.
Respond