International Animal Testing Programs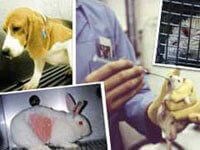 International Animal Testing Programs
PETA U.S. and its affiliates, some of which work together as the PETA International Science Consortium (PISC), push international organizations, government agencies, and industries to reduce or ban animal experiments and replace them with modern, sophisticated non-animal test methods. One way in which PETA's efforts have had global reach is through its work with an advisory group to the Organisation for Economic Co-Operation and Development's (OECD) International Council on Animal Protection in OECD Programmes (ICAPO). Spearheaded by PETA, ICAPO's efforts to integrate non-animal test methods into OECD test guidelines and programs have resulted in successes that have curtailed animal experimentation in many of the 34 OECD-member countries, sparing the lives of potentially millions of animals.
Read on to see the progress that PETA and its affiliates have made around the globe.
THE EUROPEAN UNION
Some rights for animals have been granted under the German and Swiss constitutions, and Europe has banned the sale of animal-tested cosmetics products. In addition, a Europe-wide directive requires the use of alternatives to animal experiments where they exist. With all this, it might seem as though animals in European laboratories are relatively better off than those in the U.S. and elsewhere. Scratch the surface, however, and things are more complicated.
Europe is home to some of the most shocking experiments on nonhuman primates ever to be documented. An undercover investigation in 2003 at the German branch of Covance, one of the largest contract-testing labs in the world, documented the horrific suffering of thousands of monkeys, who were subjected to a life of deprivation, fear, torment, and poisoning. Comparable conditions were also found in a U.S. Covance laboratory that PETA investigated the following year. A similarly deplorable chimpanzee facility in the Netherlands at the Biomedical Primate Research Centre was shut down after performing harmful experiments on chimpanzees for years. With its closure, no great apes are used for research anywhere in Europe—and a recent European Union (EU) law has effectively banned tests on great apes in all foreseeable circumstances. (See below.) However, the battle to put an end to harmful research on nonhuman primates and other animals is far from over.
In 2007, the EU introduced a new chemical-testing plan known as Registration, Evaluation, Authorisation and Restriction of Chemicals (REACH), which has already led to the deaths of hundreds of thousands of animals and is likely to kill millions more in cruel and archaic toxicity tests. The plan requires some 30,000 common chemicals to be subjected to an extensive range of animal testing. As a result of heavy pressure from PETA and other animal protection organizations, the final law is less destructive than the original draft and contains some progressive elements—but still, millions of animals are likely to die because of it. PETA affiliates in the EU, along with PETA U.S. science and policy experts, are working hard to ensure that EU and industry officials use every opportunity to avoid animal testing under REACH.
For example, in 2009, PETA U.S. and PETA U.K. spearheaded an effort to address the duplicative testing that was beginning to occur under REACH, and as a result, the European Chemicals Agency (ECHA) issued a clarification of the information requirements for manufacturers and importers of chemical substances under the REACH regulation. The clarification that submissions would be considered complete without short-term or screening studies when long-term toxicity studies were required has the potential to save a vast number of animals from redundant testing. Based on ECHA's estimate, 6,000 chemicals may fall under the relevant information requirements, and because up to 735 animals may be used for the initial toxicity screening for each chemical tested, ECHA's response has the potential to save the lives of more than 4 million animals.
The EU recently passed new legislation regulating animal experiments in all of its 27 member countries. Currently, 12 million animals are officially used in scientific procedures in the EU every year, and the use of many other animals goes unrecorded. PETA's European affiliates worked to ensure that the best possible results were obtained for animals during the process of turning the proposal into law. While the new law falls far short of a comprehensive ban on animal experiments, it has improved controls on animal experiments in most countries of the EU. The law covers all vertebrate animals, including fish, mice, rats, and birds, and sets particular restrictions on the use of nonhuman primates. Like the old EU law that it replaces, the new law also requires that alternatives to animals be used where possible and that the number of animals and the level of suffering be kept to a minimum in every experiment. In practice, such measures are often not implemented fairly and still allow terrible suffering to take place—but they do offer some degree of protection.
In 2013, all animal testing for cosmetics was banned in the EU and an EU-wide ban on the sale of cosmetics products containing ingredients tested on animals went into effect. There may be loopholes that could lead to other tests in some circumstances. However, the sales ban means that cosmetics testing has effectively ended in the EU and that even products tested elsewhere cannot be sold in the EU. This approach makes it one of the most enlightened and ambitious pieces of legislation on animal testing anywhere in the world, and it has helped drive innovation and the development of new, highly effective non-animal testing methods that are now being used to replace animals in experiments all around the world.
While the situation in Europe is far from perfect, progress is being made. With your help, we can bring about a day when one step forward for animals in laboratories does not also mean two steps back. Get the facts and the information that you need to help animals here.
INDIA
PETA India works to replace animals in medical and veterinary training, in product testing, and in government-funded laboratories. As a result of PETA India's efforts, the Pharmacy Council of India now recommends the use of superior non-animal tools such as computer-aided education in labs and examinations, and the Medical Council of India has removed the requirement for animal use in training. The removal of this requirement will make possible the replacement of animals in medical school curricula with sophisticated alternatives.
PETA India's campaign to replace the use of animals in dissection with effective software led to a decision by the University Grants Commission, the Indian university system's apex regulatory body, to advise all Indian universities to end dissection at the undergraduate level.
PETA India worked with the Bureau of Indian Standards (BIS) to accept an alternative to the painful Draize test for skin irritation testing in cosmetics, detergents, and dishwashing liquid soaps. In addition, the BIS agreed to stop tests on animals for known ingredients used to manufacture cosmetics and is urging companies to end all tests on animals for cosmetics.
PETA India continues to work with government officials to bring India in line with internationally accepted testing methods. This effort got a boost in March 2011 when India was invited to become a member of the OECD, enabling PETA India to participate in ICAPO. Animal testing is reduced, refined, and replaced when OECD test guidelines are used, allowing member countries to accept tests without duplication, even when countries have varying regulatory requirements. Thanks to our many meetings and discussions with government and other Indian officials, the Drugs Controller General of India has suspended all tests on animals for cosmetics until non-animal methods are accepted, and the government is considering a permanent ban.
PETA India has exposed dreadful conditions for animals in laboratories, including laboratories at the All India Institute of Medical Sciences (AIIMS), where monkeys were confined alone to rusty, cramped cages for many years in violation of Indian law. Following PETA India's three-year campaign, AIIMS suspended all experiments on monkeys and sheep until improvements were made and agreed to retire six monkeys immediately, to rehabilitate others for retirement, and to relocate the rest of the monkeys from barren individual cages to a spacious enclosure where they would be able to live together and socialize.