PETA's Regulatory Testing Department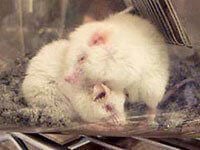 One critical but lesser known area of experimentation that PETA heavily focuses on is the abuse of millions of animals each year in painful and deadly regulatory tests.
Regulatory agencies in the U.S.—including the Environmental Protection Agency (EPA) and the Food and Drug Administration—as well as regulatory agencies in the European Union and elsewhere in the world require chemicals, pesticides, pharmaceuticals, and many other products to be tested for toxicity. Animals are forced to ingest or inhale—or are injected with—toxic substances such as gasoline components and mercury. Animals used in these tests suffer extreme pain before they are killed, dissected, and thrown away like garbage.
All the more upsetting is that many of these tests could easily be replaced with more sophisticated, more accurate, and less expensive non-animal alternatives.
Until the late 1990s, most animal protection groups avoided targeting this area of animal testing because few had the scientific expertise to deal with the enormous range of federally regulated substances.
This changed when Jessica Sandler—now the director of PETA's Regulatory Testing Department —joined PETA's staff in 1998.
Before coming to PETA, Jessica worked as a specialist in biological and chemical hazards for the federal Occupational Safety and Health Administration and the U.S. Geological Survey, having completed her master's degree in environmental health science.
Because of her scientific expertise—as well as her knowledge of the federal regulatory process—Jessica was the perfect person to lead the negotiations with the White House and the EPA, and she succeeded in greatly reducing the number of animals slated to be used in the EPA's high production volume chemical-testing program—by the tens of thousands!
Over the years, Jessica has recruited more scientists, which, we believe, has made PETA the most credible and influential of all the organizations currently engaged in the fight against toxicity testing on animals.
Highlights and Accomplishments
The following are just some of the accomplishments of PETA's Regulatory Testing group:
Within one year after Jessica Sandler joined PETA's staff, more than 800,000 animals were saved, thanks to PETA's campaign against the U.S. government's high production volume (HPV) chemical-testing program, which was designed to test thousands of chemical substances on animals. Negotiations, scientific testimony, and campaign tactics persuaded the White House to make significant changes to the program.
PETA members flooded Congress with more than 50,000 letters demanding changes to the EPA's Endocrine Disruptor Screening Program, which was designed to kill tens of thousands of animals, and our scientists are hard at work trying to change this program.
PETA fought the Center for Science in the Public Interest's request to the Food and Drug Administration (FDA) that a natural plant-based sweetener be tested on animals—and won.
When the Sierra Club and other groups wanted the EPA to require animal experiments for air fresheners, PETA presented an analysis showing that additional testing was unnecessary—and the EPA agreed!
To combat the EPA's massive chemical-testing programs backed by "mean greenies"—including theNatural Resources Defense Council, the World Wildlife Fund, and Environmental Defense—we launched a Web site to push organizations claiming to care about the environment and wildlife to support and promote non-animal testing methods.
PETA convinced government authorities in Europe to make changes to a massive animal-testing program known as REACH (Registration, Evaluation, Authorisation and Restriction of Chemicals) that will save up to 4.5 million animals from being force-fed toxic chemicals.
Meet PETA's Regulatory Testing Department
This team of experts is leading the way in reforming federal and international regulations that require substances to be tested on animals.
Jessica Sandler
Jessica Sandler received her undergraduate degree from Harvard University and her graduate degree in environmental health sciences from Johns Hopkins. She is the director of PETA's Regulatory Testing Department.
Amy Clippinger
Science adviser Amy Clippinger has a Ph.D. in cellular and molecular biology and genetics and several years of research experience at the University of Pennsylvania.
Joe Manuppello
Research associate Joe Manuppello has a master's degree in molecular biology and genetics and 20 years of research experience at the University of Pennsylvania.
Nancy Douglas
Research associate Nancy Douglas has a Ph.D. in biochemistry and molecular and cell biology from Cornell and worked on plants in laboratories for 15 years.
Jeff Brown
Research associate Jeff Brown studied epidemiology and public health at George Washington University after receiving his undergraduate degree in cell and molecular biology.
Jabeen Akhtar
Research associate Jabeen Akhtar has six years of experience writing federal regulations at the Environmental Protection Agency. She has an undergraduate degree in economics and a master's degree in public administration, with a focus on environmental policy.
Patricia Bishop
Research associate Patricia Bishop has an undergraduate degree in wildlife ecology, a master's degree in environmental science, and 30 years of experience as a research scientist with the State of New York.
Monita Sharma
Nanotoxicology expert Monita Sharma has a Ph.D. in biomedical sciences from Wright State University, with nanotoxicology as her main area of research.
PETA applauds its Regulatory Testing Department for all its hard work and its dedication to saving the lives of millions of animals.
Help support the fight to eliminate and find alternatives to cruel and unnecessary animal testing.
In This Section
Search