Skin Irritation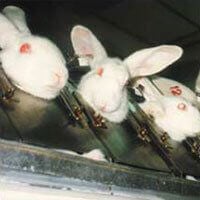 Irritants are chemicals that cause skin damage that is reversible (unlike corrosion, which is irreversible). Clinical signs of irritation include the development of a rash, inflammation, swelling, scaling, and abnormal tissue growth in the affected area.
A number of U.S. federal agencies require the submission of skin irritation data, including the Consumer Product Safety Commission (cosmetics and household products), the Environmental Protection Agency (pesticide formulations and ingredients), and the Food and Drug Administration (pharmaceuticals).
Animal Test
Rabbits are locked into full-body restraints and a test chemical is applied to the shaved skin on their back. The wound site is then covered with a gauze patch for the duration of the exposure period, normally four hours, after which the patch is removed and the degree of irritation is read and scored at specified time intervals.
Untreated skin areas serve as the control.A chemical is considered to be an irritant if it causes reversible skin lesions, such as inflammation or other clinical signs, which heal partially or totally by the end of a 14-day observation period. No painkillers are provided.
Despite their years of use, animal-based skin irritation studies have never been properly validated. In fact, evidence exists that animal studies are highly variable, of limited reliability, and generally poor predictors of human skin reactions. For example, a comparison of data from rabbit tests and four-hour human skin-patch tests for 65 substances found that 45 percent of classifications of chemical irritation potential based on animal tests were incorrect. (MK Robinson et al., Food Chem Toxicol 40, 573-592, 2002)
Non-Animal Test
Government regulators in Canada accept the use of a skinpatch test in human volunteers as a valid replacement for animal-based skin irritation studies. Human patch tests offer the benefit of being directly relevant to people, thus obviating the questionable practice of extrapolating the results of rabbit tests to humans. However, before a chemical is considered for a human skin-patch test, scientists first confirm that a chemical is not corrosive (using a non-animal method described on the Skin Corrosion page) and carry out computer modeling and various test-tube studies to be certain that a chemical does not possess other harmful properties. Only chemicals that appear to be non-irritating move on to a human skinpatch test to confirm their safety.