Skin Irritation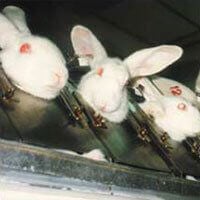 Irritants are chemicals that cause reversible skin damage (unlike corrosion, which is irreversible). Clinical signs of irritation include the development of a rash, inflammation, swelling, scaling, and abnormal tissue growth in the affected area.
A number of U.S. federal agencies require the submission of skin irritation data, including the Consumer Product Safety Commission (cosmetics and household products), the Environmental Protection Agency (pesticide formulations and ingredients), and the Food and Drug Administration (pharmaceuticals and medical devices).
Animal Tests
Rabbits' backs are shaved and a test substance is applied to their skin. The site is covered with a gauze patch for up to four hours, after which the patch is removed and the remaining substance wiped away. A wound is allowed to develop at the site for up to 14 days, and the degree of skin damage is then assessed. A chemical is considered to be an irritant if it causes reversible skin lesions, such as inflammation, that heal partially or totally by the end of the observation period.
The test may cause rabbits to suffer from inflamed skin, ulcers, bleeding, and bloody scabs. There is no requirement that animals be provided with pain-relieving drugs during this prolonged process.
Despite years of use, animal-based skin irritation studies have never been properly validated. In fact, evidence exists that animal studies are highly variable, of limited reliability, and generally poor predictors of human skin reactions. For example, a comparison of data from rabbit tests and four-hour human skin patch tests for 65 substances found that 45 percent of classifications of chemical irritation potential based on animal tests were incorrect as outlined by M.K. Robinson et al. in Food Chemical Toxicology in 2002.
Non-Animal Tests
Fortunately, several validated non-animal tests for assessing skin irritation are available to replace the use of rabbits in painful experiments. Each of these replacement tests is based on the reconstructed human epidermis, or RHE, test method (Organisation for Economic Co-operation and Development Test Guideline 439), which uses cultured human skin cells instead of live rabbits. Although different countries have different requirements for using alternatives to the rabbit test, these replacement methods have already been accepted by many agencies.