Chemical Test Plans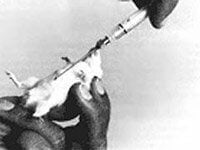 Under the High Production Volume (HPV) program, chemical companies and consortia submitted their proposals to test HPV chemicals, and these proposals were posted to the Environmental Protection Agency's (EPA) website for a 120-day comment period. PETA reviewed and commented on all HPV chemical test plans in which animal testing was proposed. What we found while reviewing the proposed test plans was shocking, including the following:
Three out of every four (75 percent) of the HPV chemical test plans violated basic, agreed upon animal welfare standards. For example, many companies submitted poorly researched test plans that made no use of existing information and instead called for the HPV program's notoriously cruel checklist battery of animal tests.
The American Chemistry Council (ACC) planned to kill animals in acute toxicity studies of the already well-characterized substance butadiene. The ACC proposed exposing animals used in the studies to levels of this substance that were literally explosive.
The American Petroleum Institute wanted to conduct acute and genetic toxicity tests that would expose animals to such well-characterized substances as butane, propane, and ethane.
General Electric planned to test chemicals individually rather than in groups, a violation of the October 1999 moratorium.
FMC Corporation planned to subject animals to painful skin-toxicity testing, in which chemicals would be applied to animals' shaved skin to determine how much it takes to kill them.
The Industrial Health Foundation planned to subject 1,000 animals to tests with a blinding and corrosive chemical.
Environmental Defense Fund (EDF) requested that the ACC test the chemical-warfare agent phosgene on 675 animals. This substance, which killed thousands of soldiers during World War I, is so highly reactive that upon contact with moisture deep in the lungs, it converts to hydrochloric acid and burns the respiratory tract. Even the EPA agreed with the ACC that additional animals did not need to die in order to further study phosgene, yet EDF asked for reproductive/developmental studies on this lethal substance. Click here to read EDF's comments.
The following reports analyze the redundancy and unscientific nature of many of the HPV test plans:
To download PETA's technical comments for each HPV chemical test plan, visit the EPA's website and click on the chemical names.
Click here to read more about the HPV chemical-testing program.