Who Made the Spot? Commercial Credits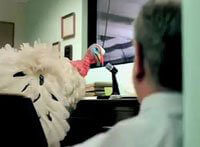 Former writer/ACD of Earle Palmer Brown, Philadelphia, Christian Carl was responsible for creating last year's fur murder spot with his good friend and art director Dan Neri. Christian was called on again by PETA to create a "Go vegetarian" message as well as three more anti-fur spots (still to come) for the upcoming holiday and winter season. And in the process started oomlöt, simply known as ö. A creative co-op of sorts founded on the principle of pairing creative teams from different parts of the world on a project basis to generate ideas for companies not interested in working within the confines of a traditional agency. And then, reaching out to the most talented people in the business to see it through.
Christian would like to thank Woody Kay for his support in making this happen. Chuck Matzker and Imdan Achda for lending him their minds. Will McDonald for his tremendous efforts, as well as Neil Tardio Jr., A Band Apart, and everyone's patience and professionalism at Whitehouse Post. There's no question that after finishing the "Go vegetarian" spot, oomlöt is hungry for more.
Related Posts
Respond