NBA Star Ron Artest's Spay and Neuter PETA Ad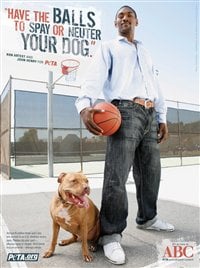 NBA star Ron Artest has a reputation for being tough on and off the court, but the Los Angeles Lakers forward has a soft spot when it comes to animals. Familiar with the dog and cat overpopulation crisis, Artest knew he had to speak up. Never one to sit quietly and watch from the sidelines, Artest chose to get involved by posing for PETA's Animal Birth Control (ABC) campaign and—with the help of a sweet pooch named John Henry—is urging his fans to "have the balls to spay or neuter your dog."
In his interview with PETA, Artest talks about the importance of spaying and neutering and what he thinks about dogfighting. He also gives some great advice: "You can volunteer your time … just by going to walk the doggies [at your local animal shelter], 'cause they're just happy to be around someone to touch them."
Every year in the United States, open-admission animal shelters across the nation are forced to put to death nearly half of the 6 million to 8 million unwanted dogs and cats who pour into their overwhelmed facilities.
PETA's ABC campaign tackles the issue of companion animal overpopulation. The campaign urges people to do their part by taking simple steps to help end this crisis, particularly by always spaying and neutering their companion animals and by never buying animals from a pet store or a breeder.
Join Artest in being a part of the solution. Sign our pledge saying that you will never buy an animal from a pet store or a breeder again and that you will always practice your ABCs by having your companion animals spayed or neutered.
Artest launched this ad to support California's latest bill to help animals, The Healthy Pets Act. This bill will ensure that all animal guardians follow their ABCs by having their companion animals spayed or neutered.
Respond