PETA and PETCO Announce Agreement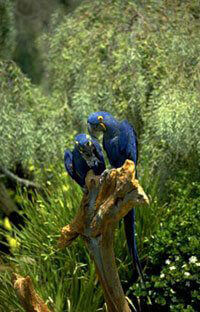 On April 12, 2005, PETA and PETCO Animal Supplies, Inc., announced an agreement that advanced animal welfare across the country. PETA agreed to end its campaign against the national pet food and supply retailer and PETCO agreed to end the sale of large birds in its stores.
The terms of the agreement were as follows:
PETCO will end the sale of large birds in the company's stores. Upon completion of the sale of the limited number currently in stock and those previously purchased from suppliers, PETCO will no longer offer large birds. The company will continue to work with its shelter partners to help those groups adopt not only dogs and cats, but to adopt homeless birds of all sizes as part of PETCO's established "Think Adoption First" program. Think Adoption First encourages anyone who is considering adding a companion animal to his or her family to consider adoption first before making a purchase. PETA intends to assist PETCO in enlisting accredited bird rescue groups to work with the company in its in-store adoption program. PETCO will also recommend and promote flight cages for all birds. The company recognizes that birds—like all animals—need exercise and mental and psychological stimulation in order to be healthy and happy.
PETA will end its boycott of PETCO and its protests at the company's stores. In agreeing to end its campaign against PETCO, PETA will take down its PETCOCruelty.com Web site, remove all references to "PETNO" on all sites affiliated with the organization, and withdraw its support of the use of the "PETNO" logo by other groups.
"We believe that all birds should have the freedom to fly and be with others of their own kind, but large birds are exceptionally hard hit by captivity, and we commend PETCO for deciding to help discourage their lifetime confinement," said PETA President Ingrid Newkirk. "We hope other responsible retailers follow PETCO's lead in this regard."
"We welcome the opportunity to work with PETA as we announce ending the sale of large birds as one of several progressive steps we are taking in our industry-leading efforts," said Bruce C. Hall, PETCO president and chief operating officer and president of the nonprofit PETCO Foundation. "We recognize that most of our bird customers are what we would call 'beginning hobbyists.' Large birds are not necessarily appropriate for these individuals due to their long lifespan, size and care requirements."
PETCO also agreed to make some changes to benefit rats and mice, including separating the animals by gender to prevent breeding.
If You Have Concerns
If you have concerns about a PETCO store, please—in addition to letting us know by e-mailing [email protected]—call PETCO's customer hotline at 1-888-824-PALS or e-mail PETCO at [email protected]. For after-hours complaints, please call PETCO at 858-453-7845, extension 5858. When calling PETCO's hotline, please be sure to obtain an incident number and ask for the name of the person you speak with
An important note for current PETCO employees: An associate hotline number is available to you. The number should be posted in your store's break room or easily obtainable from training materials, paycheck stubs, etc. PETCO's corporate office assures PETA that calls to this hotline are handled by an independent party and that you are not required to provide your name when calling with concerns. It is vital that you obtain an incident number when you call. Please do not let anyone dissuade you from using this important resource—it is your direct line to PETCO's corporate headquarters.
Respond