PETA President Ingrid Newkirk Speaks Out Against Violence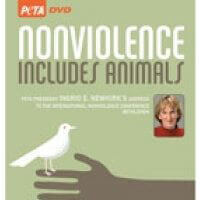 When PETA President Ingrid E. Newkirk addressed the International Nonviolence Conference in Bethlehem, it was the first time nonviolence toward animals had been formally included in what have always been "humans only" conference agendas. Newkirk asked the compassionate people present at the conference to open their minds to the idea that the way we treat animals is a reflection of who we are as individuals and as a society. Are we able to grasp the most basic problems facing us as we attempt to resolve conflict? Facing our lack of empathy toward others who are not like us is an interesting exercise that requires us to confront our most ingrained prejudices—even as we challenge others to confront theirs.
Ingrid inspires us to "embrace justice for all—no matter their race or their creed or their color or their gender or their species."
Now you can watch, own, and share this powerful speech, which PETA has released on DVD here.
Related Posts
Respond